My Ex-Husband Became The Male Lead is a romance and drama webtoon which is quite good.
MyAnimeGuru brings you an article on My Ex-Husband Became The Male Lead Spoilers which will uncover every spoiler for you.
As always, the spoilers are curated by fans and readers of the webtoon so you can trust our website on this.
Let's get started with My Ex-Husband Became The Male Lead Spoilers.
Synopsis Of My Ex-Husband Became The Male Lead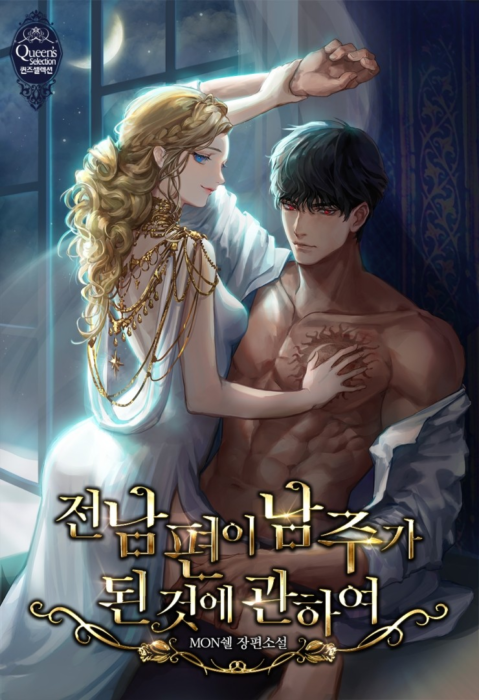 Renna, who lost her life, was reincarnated into a novel she used to read in her previous life.
Thankful for getting another chance, she lived her life peacefully until one day, the Male lead appeared in front of her out of nowhere and made a request.
"….I need you to make me a potion that can make my desire disappear."
"What….kind of desire?"
The problem here…..is that the man asking for the potion to be made is Renna's ex-husband who lost his life on the same day as she did.
Her stoical monk of an ex-husband. Her ex-husband, who throughout their marriage, was the literal meaning of the word ice.
He had possessed the famous Male Lead and appeared in front of her!
Read Also – Spoilers Of The Manhwa I Can't Keep Up With My Stallion Duke (Best)
My Ex-Husband Became The Male Lead Spoilers
The End Of Beginning Part 1
Catch them all!
Fires were everywhere. Rana was greeted by the duke who smelt burnt.
Standing at the window's side, I coughed, while a towel covered my mouth and nose.
Rana was unable to stop the people screaming from outside of the flaming windows.
"What happened? "
"My mouth was dry and I was waiting anxiously."
It is amazing how quickly time has gone by.
Rana's bedroom door was open and Carligo entered.
His expression was blank even in this situation. Rana, who was looking out the window and coughing, ran and took a step.
"Carligo! What is the matter?
Carligo silently reached for his pocket and slipped his hand into its pocket. He didn't know if he was nervous. He pulled out a small necklace from his pocket and wrapped it around her neck.
"Rana,"
Her eyes lit up when her name was spoken.
It was the first.
He called her "you" and "wife" instead of calling her "you" or her "wife".
Perhaps that is why she felt her name was so lowly.
Carligo placed the necklace he had made for her and said, "To not let go."
"You cannot leave here."
"…….."
Rana's eyes became hardened, shaking from nervousness.
What? What? Do not leave this situation!
The duchy was there for five years of our marriage. He also advised me to remain in the mansion and this small space, even if I die soon.
'…. What do you mean…to die here?
He still followed his orders, even though he was doing a favor.
I gently bit my lower lip, then I let it go and asked him.
"…… Do you?"
"……."
"Do you want to… Come back?"
What are you waiting for in this space? Are you coming back alive? But… Can I still be alive?
"No, are you going to save me?"
I wanted to ask lots of questions but my voice was shaking so I stopped.
Carligo chose to not answer her question but instead took a step back.
"I'll return no matter what."
Carligo walked out of the room.
For five years, I have been keeping an eye on his back. It wasn't different from any other day. It was cold and it was cold again.
And…
This was his final appearance as an alive person.
Find all the remaining pieces!
The Imperial Knights finally reached Rana's bedroom from the front. The Imperial Knights forced the door to Rana's bedroom, which was locked tightly.
It took very little time for it to fall apart.
I tried to stay calm until then. He was the Duke Of Edmund, with many enemies. I was concerned that this might happen one day.
Today marks the day that the imperial knights created this mess. There was a lot of conspiracy and many schemes.
It was obvious that the worst had occurred.
I tried to maintain my composure and keep it that way. As the mistress to the Duke of Edmund I will not fall in disgrace nor would I beg for my life out of fear of death.
That was my commitment, and I kept it.
But,
Rana collapsed in a single motion when Rana saw her husband's head, which the imperial knights were holding.
It was him. Carligo, her husband was the one who did it.
It was his head.
"Car..ligo..?"
The End Of Beginning Part 2
The Imperial Knights held the remnants of suppressing the rebellion in both their hands. The imperial knight's blade was thickly bloody, and the husband's head in one hand.
It was a shocking sight, and it made me want to run away.

"Car…Carl…"
"The rebel army's head was killed."
"Carli..! Carligo..! !"


Summary disposal, rebellion
This is her husband's head.

Although I was able to blame my husband for this, it didn't mean that I wanted this ending.
I still remember his unusual gaze and the voice that called her name for the first time.

"But now, what's good?

There is no consolation or comfort in the face of vanity and fear. It was also absurd to say that he would return somehow.

"According to the Imperial Law, the related rebel army also …"
The bloodstained sword rose high into the heavens.
"To be punished according to the Imperial order."
"………."

Rana was hunched over by the sharp sound of cutting through the bedroom air.
Then Rana died. Rana died in the same spot as her husband. In the memory of her terrible last death.

*****
The city was bent by the river as the morning sun rose brightly.
Every corner of the alley is filled with the laughter of people who are starting their mornings and the delicious aroma of bread.

You can hear people greeting you from this place. On a bright morning in Karmian (the capital of the Karhan Empire),

"I'll pass!"

Asha was greeted by shopkeepers as I passed through the narrow alley, laden with fresh milk and bread baskets.

"Asha, good day!"
"Yes. "Good morning, Aunt Chelsea."
"How's your business doing?"
"good~"

Asha answered with a bright smile and a fresh look.
The fragrance of spring flowers, summer heat, autumn with golden fields, and winter chill.

This place is real and you can see it with your eyes. You can also hear it through your ears.

"Who would have thought that this place could be found in a book?"

Rana arrived here ten years ago.
Her indifferent, affectionless husband causes no pain in her heart. He does not cause any injury or interference to his surroundings. His rebellion is not felt.

This is a novel.
During–

The little bell at the front of the store rang with a joyful sound as someone entered it, pushing the door open with her shoulder.

Asha immediately moved the potion from its place in the wooden box.
"This is the potion that Berna ordered and is to be delivered to the temple. This …'

Then,

The bell rang once more, and the door opened. Asha bowed as if she had waited for the bell to ring again.

"Welcome. This is Asha's Potion Store.
She quickly walked to stand and she smiled brightly.
"What do I need?" "Tell me anything."
"………."
The man who entered the store slowly walked to Asha and looked inside.
"Miss Asha Bliss. "Is she?"
"Yes, sir. I'm Asha Bliss."

The man in the dark blue uniform seemed a bit stiff. Nevertheless, Asha did not lose her smile. It's not only the kind and gentle customers who come back every time.

'Stranger…'

He thought as he stared at Asha from the other side.
Asha Bliss. It was a wizard whose names were well-known among my people. It doesn't matter if it is good or bad.
It seems like a prejudice was formed. It was expected to make a strong impression. It would also resemble the image I had of a witch from books.
She is gentle and sweet when she is faced. Non, she is sweet and gentle when faced.


"I heard that you made a special potion in this area."
"Oh, you're going to need a special potion. What do you need?

Her white face was brightened by a bright smile. The deep blue eyes and platinum hair, which curl down to the waist, give the whole atmosphere dignity.
There are so many beautiful women.
Few women have the combination of beauty and nobleness. It was difficult to find noble women.
"And I don't know if she's a magician from outside."
The woman in front of him did not display the same gloominess as the magicians in the tower.

As I stared at her, holding her gaze, and feeling the strange energy from the opposite sex that paralyzed me, I wondered if she was a witch.

The man then exhales and inhales as he looks at her, answering her questions.

"It's not me who needs the potion, it is the person I serve."
Asha smiled slowly, then it disappeared.
"Uhh…."
"………."

The woman's original features were revealed when her straight smile vanished from her face.

"Was the smiling smile for business?"

As he looked at her, the man's eyebrows moved.
Although she appeared beautiful and beautiful at first glance, it was clear that she was not. It was more than we expected.
Asha, after pondering for some time, smiled again.

"I'm sorry. Only by seeing the person in person can a special potion be made.

Asha looked at the man in front of them with thin eyes and smiled.
This is the appearance of mid-to-late 20s. It has a straight back, waist, calm tone, and a straight uniform.
He appears to be holding the seat of a noble servant, as evident by his remarks about 'the person he served'

'Count? Marquis? Or the Duke's butler?"

He continued to calmly listen to Asha's answers.

"I need your help to get here with me."
"………"

Asha raises her eyebrows instead of answering. Although it was somewhat predictable that an employee would be sent to Asha, she is now embarrassed by the fact that she didn't know what she was doing and has made a sarcastic expression.

"What should we do about this?"
She raised her eyebrows and continued the conversation.

"As you can see I am the sole shopkeeper. So when I'm not in the store …"

Asha blurts out and laughs, pretending that it is more difficult. To make up for the lost revenue, the cost of leaving the store was to find a solution.

As Asha spoke, the man listening pulled out a large pocket from his arm and placed it on the counter. As if he had heard rumors about Asha.

"If the loss is due to the closing of the door, we will pay you more than this gold."
Gold. This was her favorite.
It's a deposit. You won't regret it. As soon as I'm finished, I'll pay you ten times the deposit.
"……."
"Officially, if you cancel a request unilaterally you will be required to pay 20x the deposit as a penalty."

Asha's blue eyes were fixed on a very heavy-looking pocket of gold, as he listened to him.
What is the penalty for refusing to comply with a request?
This is not what she meant. It was also clear that the store would have been able to stay open for only three to four months if it had enough gold.
Asha smiled confidently

"You don't have to worry about this. "I have never given up on myself."
Her deep blue eyes were filled with confidence. Or maybe she was greedy.
'10 folds of payment …'
It's been a while since the story about the 20-time penalty fee was heard in one ear, and then flowed out the other.
Asha smiled and pulled out the gold pouch from the counter.

"Are you okay with the travel expenses sir?"
The First Encounter
Redin karantes, a butler, was the man who came to Asha's shop.

Carligo was the name of her husband and that of the Male Lead character in the novel she had read before. Because the ML reminded her of her husband, she thought the novel was unusual. She now goes to the castle where the Grand Duke of Etus is, which she believes is the ML in the novel.


The butler guided her to the office of the grand duke when she reached the castle.

Asha was shocked at their first meeting. She does recognize him as her ex-husband, Carligo Edmun. Now he is Carligo ETUS, the male lead in the novel.

He can't see her face, as she is covered in a cloak hood.

Asha told him that she had ugly scars on her skin and she keeps them hidden. Then they discussed business and potion.
Chapter 23
It was obvious that I could not hide it forever. However, I was shocked when he called me that name.
"Lana……Lana."
"……."
Asha was surprised when his past name was called back and she looked down at Caligo. Caligo on the other side, however, did not look at all surprised.
"Even though …… I knew everything, I pretend not to know."
Caligo smiled quietly as her eyes narrowed and added another word.
"……my wife."
"……."
Asha's eyes become more widened at his low voice. It became waves with its deep blue eyes.
"……Are you crazy. "Did you inflict any injuries to your head?"
"No way."
Caligo looked at Asha, embarrassed, and then he had a little giggle. Asha gave him a confused look.
"Are you laughing?" "Are you smiling at the way that you look?"
"Asha……. Asha."
Kaligo's grinning voice repeatedly called Asha's number. He supported the ground quickly with his elbows and lifted his upper body only halfway.
Asha squinted at the Kaligo rising.
"…… Are you okay?
"……."
Caligo's red eyes and face were alive, making him wonder if he had just lost his love.
It was more of an experience than a way to live.
His eyes lit up with excitement.
Caligo, who had been looking at Asha for some time, tilted his head at an angle, slowly moving his eyes down, and then opened his mouth.
"Are You Still Going to Sit There?"
"Huh?"
Asha followed his gaze and headed down the hill. Asha realized which body she was sitting on and where it was.
"Ah…."
"I don't believe you're in a very great place to speak."
It's fine the way it is. But Carligo, who quietly murmured, smiled softly.
Asha, unlike him, was relaxed. He blinked fast, looking down with large eyes.
"Oh, I'm sorry. What's next ……."?
Whoo!
A huge roar then rang out, shaking the entire forest.
They turned their heads in the direction of the sound.
"Luke!"
Surprised, Asha leaped out of Caligo's body and ran from the barracks. It seemed like there was an explosion in the woods. This was not far away.
Luke was seen flying through thick smoke.
"What's the heck is going on ?….'?"
Asha glanced at Luke and shook her head. Caligo followed Asha out of the barracks and walked up to her side.
"You are a new person."
Asha was taken aback by Luke's popularity and turned to Luke once more.
"……maybe, maybe."
"Maybe?"
"I searched all the books but couldn't find anyone who looked like me." "I've never heard that."
"……."
"I'm just stating, by and by, by way, the way. By the way. By the way.
Caligo looked at Caligo and asked.
"Is it sealed with a mana stone?"
It's not possible to say that it's a seal. It feels like I am living by my own rules."
"……will."
Asha reached for the necklace and wrapped it around her neck. He talked on, rolling the magnet gently around her neck until it was no longer visible in the middle.
"Just like there are a lot of things I can confide in Luke; he has something within him that he cannot say."
Caligo also looked at Luke when she was looking at him.
"…… You call me Luke."
"Yes, because Shinsu's name was Luke and he was sitting on the right shoulder with the god Khan."
Khan was one of the gods outside of the book.
"Khan" had an incantation on his right shoulder. The name of the bird that sat on the shoulder and looked down at all things at the same level as Luke was the name of Luke.
Shinsu, who had fallen asleep in Asha's mana stone, woke up, and Luke was the name he remembered.
Luke was the divider that is currently making a mess in the woods.
"As you all know, Duke Edmund ……." is patronized by the god Khan."
Hap, Asha quickly shuts up.
Duke Edmund said, "Yes, I am." When asked about his ex-husband's work, Duke Edmund replied, "Yes, I am." He admitted that it was his wife.
Asha, who licked her lips in regret, snuck up her head to look at him.
'Oh…'
It's over.
His lips were already in a straight line.
With a smile of joy, I looked at Asha and saw that her memory of Lana was out of her mouth. It was her family's story.
"Yes, that's right. "Yes, that's right. The Duke of Edmund had a guardian deity named Khan.
"……."
His eyes for Asha were tender and more sincere
"Not yet …… You remembered."
"……."
It is difficult to say it is Lana at this stage. I didn't want it to be so lame.
Asha turned her head with her mouth shut and walked away.
Caligo grabbed her hand and pressed the button.
"……Asha."
"……."
Asha slowly turned towards him once more, as soon as his hand was held. With a lot of emotion in her eyes, red eyes appeared.
'Why…'
You are looking at me with such a sad expression. She didn't understand.
My side was abandoned and I was the unjust one. Caligo however had this expression.
Caligo held her hand tighter.
"Do we …… not need to speak?"
"……."
"Lana."
"……."
Asha didn't respond, so he called Lana once more.
He may not know the meaning of Asha's name, so he calls it in his voice.
Sometimes, even after 10 years, it is hard to know what memories you have in your dreams.
Asha looked at him calmly and said.
"Here's Lena……none."
"……."
Kaligo's eyebrows narrowed slightly when Asha replied to Kaligo that he would deny it.
"I hope that you will not be foolish enough to get lost in the past."
Unsane man bound by his past.
Caligo appeared to be aware that the term was meant for him.
I cannot say no. But, her folly brought them back together, and she confirmed that she was still alive.
"Wouldn't it be nice to find out who I am?" Are you the only one interested in me? …… I wondered how you lived here
"Conversation."
"……."
"You can do this anywhere, anytime."
"……."
"But, do we have to do that here?"
"Lana."
Caligo called her Lana again. Asha took a step back, releasing his hand.
"I'm Asha Bliss. The Grand Duke is Caligo Etus, just like Asha Bliss.
"……."
Caligo couldn't speak of Asha's determination anymore.
If you cover your face, it will make you pretend that you don't care for your entire life.
And if your hands are shaken, you'll be easily pushed out. By the way, I was still disappointed even though …… I had made my decision.
Asha smiled softly at Caligo's sad face.
"Caligo."
"Yes."
"I understand that you want to speak to me. I'm not going to run, now that I'm here. But…."
He has taken everything that was in his way. It was from the moment that I saw it was the Grand Duke, and I didn't run away. I entered his office.
"What we are going to discuss is …… it will never be light."
Asha continued to look around slowly.
"This place makes it difficult to sleep at night. It makes you feel lost and buried in your emotions. This is why …… I don't want you to tell the old story.
"Yes, I get what you mean."
Caligo moved up to Asha, and Asha raised his head.
"……."
"I'll wait." "Until we can talk to each other in the situation that you desire, where you desire."
"……thank you. It won't take long.
"Yes."
There was again awkward air between them. Asha had a slight cough as she entered the barracks.
Let's get started with the medicine. That's my priority right now.
"……Medicine?"
Caligo followed Caligo to the barracks.
Asha, who walked into the barracks carrying the tent, reached for her bag. To be safe, I began to take out each tool I had brought.
Caligo followed her into the barracks and looked at her before turning his attention to the place where the beast was tied.
The site was clean of any evil signs. Kaligo tilted his head, and Asha replied to him.
"Maybe the core was destroyed and vanished." Luke is good at finding a nucleus.
"……Ah."
Caligo's eyes were turned to Asha by her voice.
"By the by, potion ……."
"I cannot make many tools, they are not perfect. So I will start with a little."
"I mean, which kind of potion it is?"
Asha looked up at Caligo as he asked him his question.
It was not easy to collect materials tomorrow. Many dangerous ingredients needed to be collected and moved down the street. It will be impossible to eat well and you must fight the flu.
At least I was able to get some snow and go to bed. The man's physical condition was also remarkable. He had to be in the same bed.
"The potion that I drank. Is that Ben?
"Yes."
"……."
"What's the problem with you?" "Was there something wrong?"
He repeated the question. Asha, after a long pause, spoke again, listing the tools that she had taken out onto the simple table.
"I don't believe the potion works."
"What…."
"When I was forced by circumstances to continue."
"……yes."
"This thing is in your pants!"
"……that?"
Asha turned her back to him and took out a small towel. She began polishing the tools at the table with the cloth until they were perfect.
"If you take medicine and it's finished, it means that it isn't doing its job."
"……."
"It may be uncomfortable to use the same bedding when the medicine is not in effect. So I believe we should make an urgent ……."
"What does that mean?"
"Oh, well…I mean."
Kaligo opened his mouth to Asha first, tilting her head in confusion, as she tried to explain it.
"It was very peaceful."
What? Asha, who was meticulously polishing the tools turned her head towards him with wide-open eyes.
"……what?"
Final Words
That was all for our article on My Ex-Husband Became The Male Lead Spoilers and I hope you enjoyed the spoilers.
If you like to read more of these posts then make sure you follow us on social media to stay updated.