Is one piece worth watching?
So, you heard your friends talking about an anime called One piece and decided to watch it but the moment you came to know that it has 1000+ episodes your brain instantly arises a question,
Question:
Is one piece worth watching?
We are going to give a short answer and a long answer.
Is one piece worth watching?

Absolutely Yes. One piece is a legendary anime which is not only worth watching but you will start suggesting this anime to your friends once you start watching it.
You will be overflooded with emotions like joy, sorrow, anger and many other mixed feelings. It will make you laugh and bring you tears at the same time. It is an absolute masterpiece.
That's it for the short answer. Now, let's dive into why I made that statement.

Is one piece worth watching? A detailed review
One Piece is a legendary manga written and illustrated by Japanese mangaka Eiichirō Oda which made a revolution through its storytelling and the way protagonists and antagonists are shown and their backstories and whatnot.
Toei Animation makes the anime that adapts the manga, being broadcast on October 20, 1999, and still running and has more than 1000 episodes.
It is by far one of the longest-running animes to date. There are so many episodes to watch and chapters to read, this shonen epic is insanely awesome and intimidating.
Is One Piece Good?

Yes, its super good and awesome. Its one of the greatest shonen/shounen mangas and animes ever made and written. This will be the last thing on earth you will regret watching.
One piece anime has been running for the last 20 years and even releasing the episodes while I am writing this article about it. If you like to watch anime then one piece is one of the best things to watch.
The tale of a boy Monkey D. Luffy who aims to become the Pirate king still attracts viewers of all ages. Not only its plots but also its storytelling makes the viewer speechless.
It has moments where you will laugh to death and moments where you can't hold back your tears. It is one of the animes that will remain in your heart as long as you have your memory.
The adventures and secrets unfolded by the protagonist Monkey D. Luffy are not something you get to see in every anime.
You can say that this is the only show in anime history that is hooking its viewer's attention just fine despite being so long.
Is one piece good? Statistical Data
Let's discuss some of the statistics related One piece anime. Starting broadcast on date Oct 20, 1999, and still ongoing, it has 1000+ episodes and 20 years of continued anime engagement.
In the year 2020, one piece set records becoming the 35th anime to cross 1,000,000 total members, and the 5th to cross 100,000 favorites.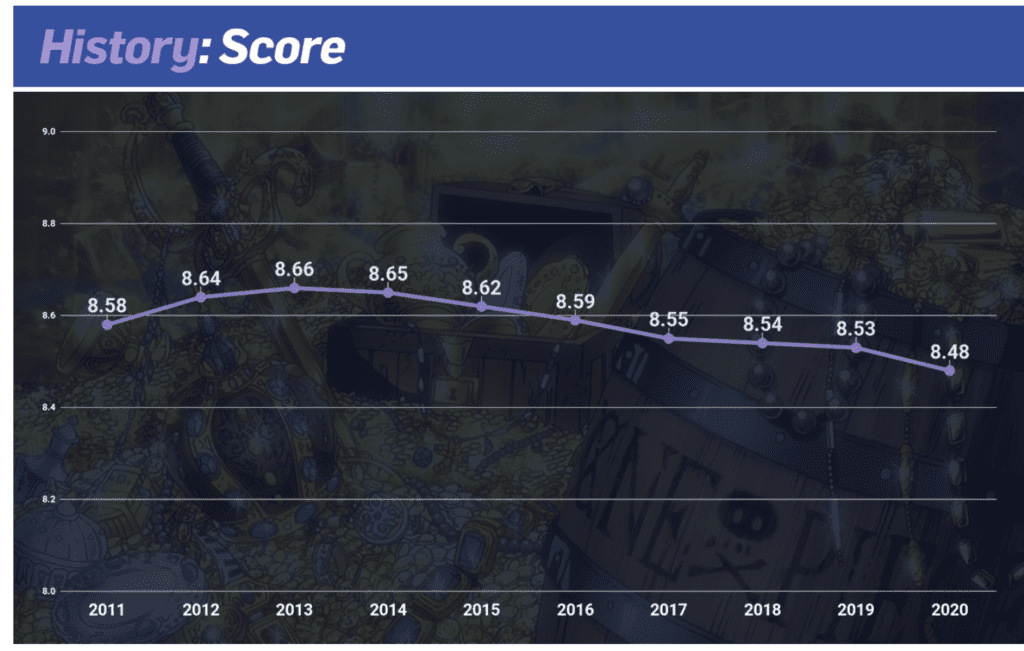 These graphs show the real popularity of One-piece anime over time.
Why One piece is great?
One Piece has one of the most mind-blowing world-building in the history of anime. The creativity of ODA is visible in the story's setting and character designs.
The story revolves around a group of pirates who travel around the world for adventures and a great treasure called one piece.
As the show goes on, you will see an endless amount of characters. You will be blown by the backstories every antagonist and side character has.
It would not be wrong to say that One piece has done justice to every character in the series with perfect screen time and backstories.
You will not only get connected to Luffy's crew but also will be attached to his ship Going Merry. (Spoiler alert) I got emotional many times just seeing the going merry getting broken.
Trust me when I say this, One piece will have total control over your feelings when you start watching it. You will laugh and will be in tears the next moment.
That's the level of story-building and screenplay this series has to offer. I am a fan of shounen animes and I love seeing supernatural stuff related to fantasies, folklore, and demons.
When I started watching one piece, it was a whole new experience because I have never seen anything like that before.
People often compare one piece and naruto and say one of them is better but let me tell you that those two are considered the big three of anime.
Related:

One Piece Arcs In Order: How To Watch One Piece
One Piece: Financial Stats
The One piece anime has one of the largest fanbases in the anime community. It has a fanbase so huge that even Netflix decided they will make a One piece live-action series.
This series will have a budget of $9-10 million dollars per episode.
Read Also – One Piece Is Having A Live Action
You can imagine what the final series will look like. This made anime fans go crazy over the show and gained popularity like no other anime.
You can understand the popularity of the anime by looking at its financial report which is crazy profitable for the producers and directors.
| Year | One Piece content revenue in Japan |
| --- | --- |
| 2012 | ¥28.9 billion ($362 million) |
| 2013 | ¥16.5 billion ($169 million) |
| 2014 | ¥15.6 billion ($147 million) |
| 2015 | Un­known |
| 2016 | ¥15.5 billion ($142 million) |
| 2017 | ¥12.5 billion ($111 million) |
| 2018 | ¥18.9 billion ($171 million) |
| 2019 | ¥16.1 billion ($148 million) |
| 2020 | ¥22.5 billion ($217 million) |
| 2012 to 2020 | ¥146.5 billion+ ($1.467 billion+) |
| Fiscal period | One Piece earnings |
| --- | --- |
| April 2003 to March 2012 | ¥14.946 billion ($187.32 million) |
| April 2012 to March 2013 | ¥6.186 billion ($77.53 million) |
| April 2013 to March 2014 | ¥5.289 billion ($63.38 million) |
| April 2014 to March 2015 | ¥5.537 billion ($58.39 million) |
| April 2015 to March 2020 | ¥40.973 billion ($395.87 million) |
| April 2020 to December 2021 | ¥18.472 billion ($173.01 million) |
| April 2003 to December 2021 | ¥91.403 billion ($955.5 million) |
Credit – FictionHorizon
As we can see, the complete show's income is next to millions, making it one of the most profitable franchises in anime history.
While this doesn't guarantee the success of the show. But no production house will continue spending millions on the airing of a show over two decades if it's not profitable and successful.
Conclusion
Yes, if you like watching anime or even if you are new to anime there is nothing in this show that will fail to amaze you.
Not only it is worth watching but you will be amazed in every episode. In other words, it is an absolute masterpiece.
Read Also – Watch One Piece For Free
It has a mindblowing protagonist and an amazing story play. You will see several backstories related to protagonists as well as antagonists and side characters too.
This show will make you fall in love with objects like ships, swords, hats, etc.
Since the show has more than 1000 episodes people start questioning if it is worth watching one piece or not.
When I decided to watch it then I too have speculations about it but as the story goes on my speculations faded over time and disappeared.
I think with this much discussion we have helped in making your decision about watching one piece and whether is it worth it or not.
Do share the article with your friends if they want some help regarding this.
Read Also – Luffy Is Going Gear 5