You have finally decided to take a look at one piece but you might be wondering where to watch one piece.
Then this article will cover websites where you can enjoy One piece anime without any worries.
One piece is one of the legendary shounen manga which attracts every anime fan. No matter what is your age or what is your interest in anime, there is almost no one who doesn't like One piece anime.
We are going to discuss some paid as well as free websites where you can watch one piece.
Watch One Piece Online
One Piece is one of the big three of anime and one of the longest-running anime series of all time!
The anime started broadcasting back in 1999, and it is still ongoing after two decades.
Even fans and creators do not know just how long the tale of Monkey D. Luffy is going to last because neither anime nor manga has been completed.
There are many websites where you can watch one piece. Today we are going to talk about some free websites as well as some paid platforms too where you can watch one piece anime.
Read Also – Is One Piece Really Worth Watching?
Where to watch one piece for free?
3 Websites to watch one piece for free
AnimixPlay (Closed)
Zoro.to
9Anime
These three websites are the best platforms to watch One piece or any other anime for absolutely free without any irritating ads too.
Let's discuss them thoroughly.

Related:

One Piece Arcs In Order: How To Watch One Piece
1. Animix Play (Closed)
AnimixPlay is one of the best anime-watching platforms with little to no ads if you use an adblocker. It consists of a simple layout where you can watch almost all of the animes in the best quality available.
The best thing about this website is it uses a little amount of data to watch anime. It provides multiple languages streams and subtitles all in the same place.
Pros
Uses less data
Super light website
Less/No ads
Absolutely Free
Updated every minute
No downtime
Easy High Quality Downloads
Cons
You might not find every anime on this website but the majority of them are here.
2. Zoro.to
This is my second favorite website to watch anime for absolutely free. One piece is available to watch here for free in HD quality.
Zoro.to is a new and absolutely free anime streaming site that allows its users to access its library of millions of shows with the latest releases for absolutely free.
Features
UltraHD/4k Quality
Absolutely Free
Ad-free
Updated all the time
No downtime
Cons
Uses more data than AnimixPlay.
3. 9Anime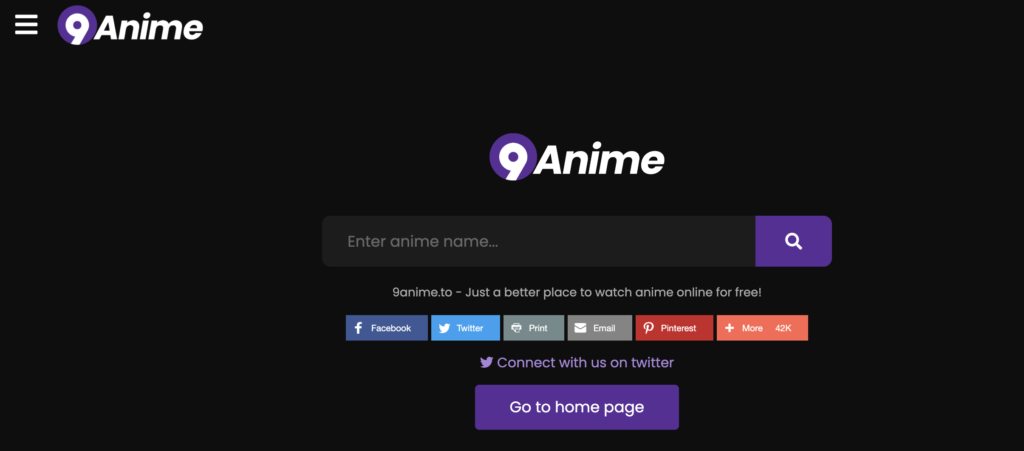 This is also one of my favorites in terms of watching anime for free. You can find and enjoy one piece here for absolutely free.
9Anime is the last free website I would turn to if I have to watch anime for free.
Anime streaming site 9anime offers a wide variety of material to stream in the highest quality available.
It also offers substantial coverage of currently airing content, letting users keep completely up to date with their favorite shows.
With this list concludes the websites we need to watch one piece for free. Now, we are going to talk about websites where we can enjoy one piece by paying a subscription fee.
Read Also – One Piece Is Getting A Netflix Live Action
Paid Platforms to watch one piece
There are some of the world's leading platforms in the entertainment and OTT industry and these also offer content for anime lovers.
Let's discuss them in detail.
1. Netflix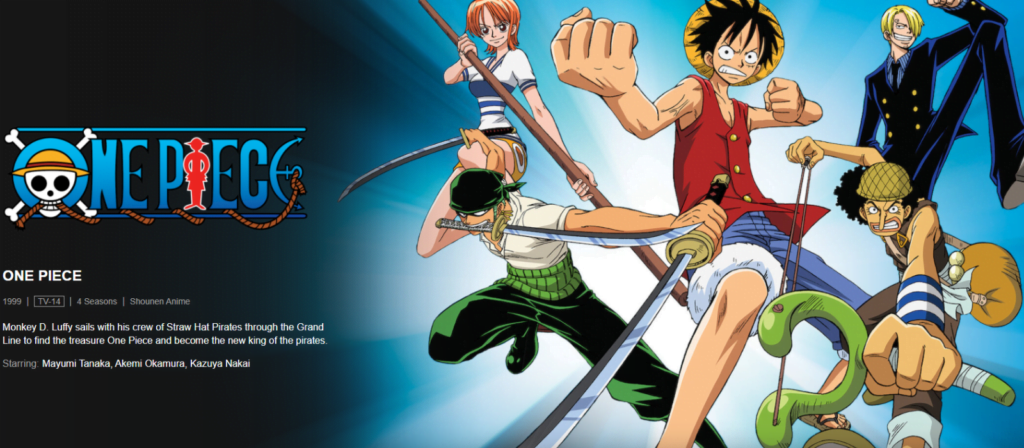 You can watch all the episodes of One Piece on Netflix. The only limitation you will have is you have to use a VPN for some countries because it is only available for the USA and some other countries.
As long as you are in these countries where the one piece is available then you are good to go with US Netflix.
2. Hulu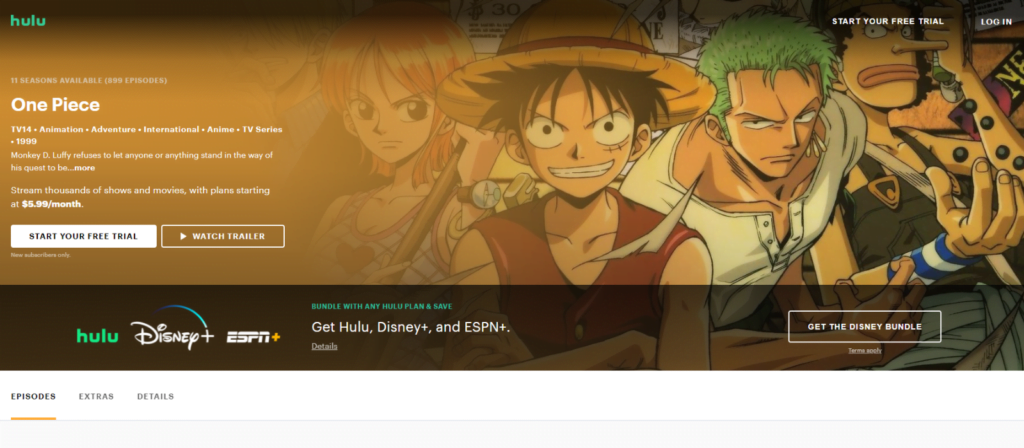 Hulu is also a streaming platform where you can watch all the latest episodes of one piece anime.
However, the latest episodes of the One Piece series are not yet available on the platform but will be updates soon. You can watch the series in English and Japanese on the platform.
3. Amazon
You can enjoy one piece anime on amazon. However, you have to spend on every single episode because it is not available with prime video.
So, that sums up some paid and free options available to watch one piece online.
Read Also – Luffy Is Getting A Gear Upgrade
Bonus Apps To Help You Find Anime Content
Final Words
I hope you liked our article on Where To Watch One Piece For Free. I guess you got what you were looking for. You can find us on social media too.