So imagine you love Basketball but got no time to play because you also love watching anime. Well, that's a problem, right?
No more, MyAnimeGuru brings you the list of the Top 10+ Best Basketball Anime Of All Time (Ranked). The rankings will be based on the anime reviews and popularity according to the major fandom websites.
Basketball is one of the most played sports in the world and influences Japanese culture too. That is why we have brought the best anime that are influenced by Basketball and feature the game.
So, without wasting any more time let's get started with our list of the best basketball anime of all time.
List Of Best Basketball Anime Of All Time
Kuroko's Basketball
Slam Dunk
Ahiru No Sora
Basquash
Ro-Kyu-Bu! SS
Dash! Kappei
Barangay 143
Buzzer Beater
Dear Boys
I'll/CKBC
Breakers
There aren't many basketball anime that are good enough but we found these to be mentionable titles on our list of best basketball anime to watch. Now, let us discuss why we chose these titles on our list of basketball anime.
Read Also – Top 10 Best Anime To Watch If You Like Volleyball (Ranked)
1. Kuroko's Basketball
I'm not usually into sports anime, but I'm so glad I gave this one the chance. I love this show! I love the way they came up with a unique and fresh look that Kuroko (the MC) uses, and how it's not always their way.
I love that every character has unique skills that they are constantly improving and adding fun moves to. I am awestruck by the animation and the way they add some zing making it look awesome! I would recommend this show to anyone.
If I had the chance, I'd rate this show at least 10+ points for each category. The series was simply excellent. I watched the entire three seasons in less than 4 days and wow, it was an adrenaline rush.
The development of the character protagonist and his family is astonishing and extremely emotional. Six very close friends split up and then met again. When they meet, they discover wonderful things.
I can guarantee that it'll cause you to cry and scream. I was screaming so loud from excitement over the episodes. If you loved the show Haikyuu and are seeking similar to it and looking for the best basketball anime then this is it for you.
2. Slam Dunk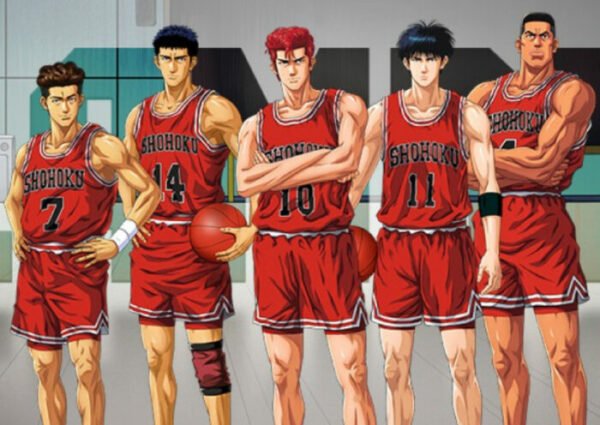 A hoodlum chooses to take up basketball to spite himself and because of his enormous self-esteem. However, this man has hidden talents that are waiting to be turned into something extraordinary.
This is an epic story. It brought a multitude of emotions to me and made me jump with joy every time something amazing occurred. One thing I liked about it was that they were fairly knowledgeable of NBA trivia.
It's impossible to talk about the anime without comparing it to Kuroko no Basuke. One thing this show offers over the KnB series is it's more real. It's more relatable and allows you to feel more connected to the characters and the show.
The pace is a bit slow, however, Rome was not built in a day. The only thing that keeps me from rating it 10/10 is the fact that it's not fully completed. I read the rest in the series and I found it as, or as epic. Justice must be served and the story must be finished.
Overall, a must-watch basketball anime.
3. Ahiru No Sora
At first, I wasn't sure if I could be drawn into this show but did after watching a few episodes. It is amazing to see how characters bounce back after failing or making an error.
I thought about reading the manga a few times to determine what would happen after that, but I decided to put it down as it would have eliminated the suspense if you choose to.
The show premiered just last week in the latter part of 2019 Ahiru no Sora is poised to make waves in the world of basketball anime. The underdog tale is a common theme in the genre of shonen.
However, Ahiru no Sora can convey this refreshingly. The main character, Sora Kurumatani, is easily recognizable to the majority of basketball enthusiasts from all over the world.
He's not tall! However, it does not stop him from striving to be the best.
Alongside a vibrant group of actors (Sora's team is comprised of a loose group of criminals), Ahiru no Sora excels in basketball action as well as plot drama.
One of the best basketball anime of all time.
Read Also – 17+ Best Anime To Watch If You Like Racing (Ranked)
4. Basquash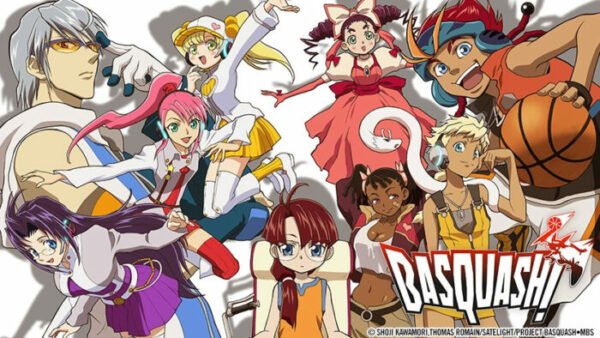 Are you looking for a captivating story that will keep your attention This is what I saw when I first began watching this. Me, I did not pay much attention to how thorough the story was.
I watched each episode as it unfolded and was always wondering what would happen following. I was hooked from the first episode to the 26th episode and was always wanting more.
After the first 3 episodes, you get absorbed in the story of the protagonist and then the ecchi-related jokes start to creep in, which can turn people off.
The story, however, they don't hinder the enjoyment in any way After another two episodes, the jokes stop and the story's progress continues as each episode becomes more intricate and exciting, keeping viewers at an edge like I was, and still am.
I do hope you'll like this one of the best basketball anime as much as I did. I enjoyed it.
5. Ro-Kyu-Bu! SS
The adorable series follows a basketball player from high school who is the coach of an elementary girls' team. The reason for this is a bit nebulous however, his team is currently on pause.
An anime season in 2011 that was followed up by an OVA and the 2013 sequel Ro-KyuBu! SS. It's based on the light novel series.
With the cast that is in charge and the basic concept (a senior in high school attempting to teach basketball fundamentals to five boisterous young girls), This is not an actual basketball show. However, there are plenty of them.
This comedy for girls may be more appealing to those who love Mitsudomoe more than those who love Slam Dunk. If you're looking for the perfect mix of adorable ladies and one of the best basketball anime then this series is the perfect option.
6. Dash! Kappei
This is a basketball-themed anime that was released in 1981 (with a staggering 65 episodes). Dash Kappei showcases 80s ecchi comedy at its finest.
The story centers around Kappei Sakamoto, who is a small (less than a meter high!) high school student who has godlike basketball abilities.
However, the reason he has to play basketball isn't entirely clear He found out that the coach on the team is wearing white pants. Ironically, it's his biggest flaw, as he is unable to not stop looking at his underwear!
The show is hilarious and full of out-of-the-box humor Kappei recuperating his strength with the use of panties, and winning games using strange methods) Dash Kappei will try to teach basketball seriously, explaining basketball terms in each episode.
Even in case, you don't know basketball, even then this basketball anime will entice you.
7. Barangay 143
This is an insignificant anime show (relatively because it's available globally via the Filipino channel). The show also came back with fresh airings on TV in recent times. Barangay 143 analyzed how basketball on the streets is seen by Filipinos eyes.
The show is centered around Bren Park who is a Korean basketball player who has origins in the Philippines He joins a local streetball club. Apart from playing sports, Bren learns more about Filipino culture.
He also discovers the importance of being able to follow your interests in life. Though it was made with the help of a Filipino Animation studio as well as TV Asahi, Barangay 143 shows some odd dubbing and animation peculiarities.
Put them aside and you'll still enjoy an entertaining sports and basketball anime that demonstrates the impact basketball has on the Asian scene.
8. Buzzer Beater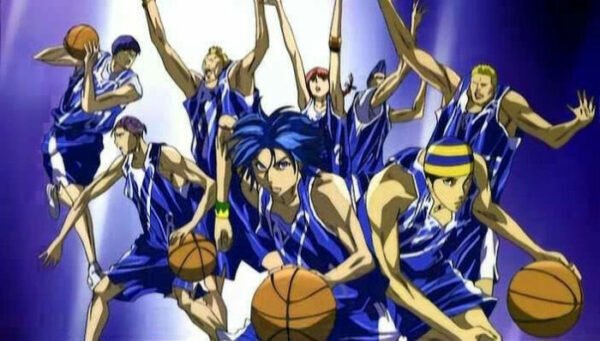 The anime series 2005-2007 Buzzer Beater started as another Takehiko Inoue basketball manga series. (See the series Slam Dunk above.) Like Slam Dunk, this one is set in the future and has players from the future who are aliens.
It is believed that when aliens arrived the aliens were physically stronger and naturally more adept in the field than human players. The story is a reiteration of popular criticism of racial differences in sports. The series follows an all-human group of athletes trying to regain glory for Earth.
As a coincidence, the manga series was launched in the same year as the animated film about alien basketball Space Jam came out.
The anime series can be difficult to locate in other countries than Japan (Japanese Hulu has it) particularly because Buzzer Beater is a fairly popular name for sports-related media.
Also, one of the best basketball anime to watch.
9. Dear Boys
The 2003 basketball anime series is based on a manga that first appeared in 1989. A variety of sequel and prequel mangas continued the series for many years.
Despite the length of the manga the show only ran for one season. Fans haven't heard anything regarding a season 2 remake or a reboot.
The film tells the story of Mizuho High School. In the beginning, the team of boys is comprised of just five players. Naturally, it's up to the new graduate pupil Kazuhiko Aikawa to persuade the other players to not quit.
The title is derived from the girls' coach who manages the team of boys. They call them 'dear boys.' This basketball anime could be downloaded from Crunchyroll however they've since removed the ball.
10. I'll/CKBC
I'll/ CKBC started as a manga series from 1995 to 2004 written by Hiroyuki Asada. The manga was later adapted into an OVA in 2002.
CKBC is the abbreviation for Crazy Kouzu Basketball Club. The series is based on an incoming freshman, Tachibana Akane, and his rival, Hiiragi Hitori.
As they join the basketball team and begin to fight, they continue to propel them forward, however, leading the team toward victory is the most important thing. In the end, Hiiragi is also dealing with family issues to address.
The OVA is brief however, it does take the game seriously. The best option for viewing legally in countries outside Japan is the DVD available on Amazon for this amazing basketball anime.
11. Breakers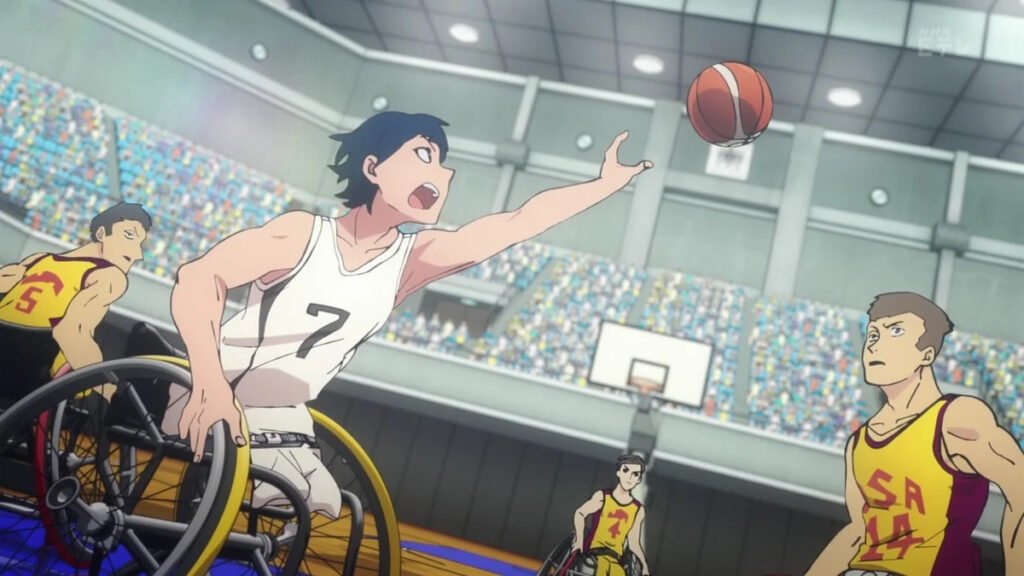 Breakers concentrate on one element of sports that is not frequently covered in the mainstream media Paralympics.
The anime depicts four games: goal ball, paralympic swimming, track as well as wheelchair basketball.
The very first episode, with wheelchair basketball being the primary event, did provide the excitement, demonstrating how thrilling (and skilled) para-athletes can be.
It's a great way to experience an entirely different basketball style that isn't often thought of. Absolutely a unique and one of the best basketball anime.
Final Words
That was all for our list of best basketball anime of all time. I hope you got 2-3 suggestions in your mind to be watched next. Let me know in the comments which one you liked the most and you can subscribe to our newsletter to get daily updates on our website.
You can also follow us on social media.