The Kind Older Sister Is No More is a Fantasy Romance Manhwa with a great plot and story.
MyAnimeGuru brings you an article on The Kind Older Sister Is No More Spoilers (Latest).
This article will cover everything there is to know until the latest chapters of the manhwa for impatient readers.
So, without any delay let's get started.
Synopsis Of The Kind Older Sister Is No More
The Kind Older Sister Is No More
"Because I'm the big sister, I have to give in to you. Can't you just forgive her?"
For her sick little sister, Riel.
Irene was forced to live like a shadow, contributing to her sister's prominence.
Irene thought she would do anything for her family. Until her sister took it all from her.
"Don't call me sister. I'm not your older sister from now on."
"Are you talking to me now?"
"Why didn't Riel die for me? I gave up everything for Riel…"
One day, she realized that she didn't even have a place in this house. The house where she could not receive a single love.
"I don't want to have any more regrets"
After realizing his situation, unfortunately, it was too late. Irene has begun to figure out how to be independent.
In front of her, Noel Christian, the grand duke was in a similar situation.
***
"Do you want to marry me?"
"If necessary"
"That's disrespectful. If you want to be a duchess, then you should just give up."
"No need for power, no need for love. Just a formal marriage is enough"
Noel looked at her quietly. A strange atmosphere suddenly appeared around her.
The clouds cleared and Irene's eyes filled with light. Irene told him directly.
"Maybe we'll be able to save each other"
The Kind Older Sister Is No More Spoilers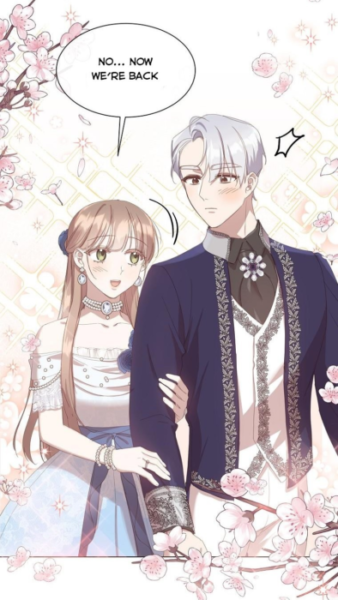 Let's have the main course i.e. The Kind Older Sister Is No More Spoilers get started.
Irene And Noel Are Soft
Noel asked Irene to paint their portrait. Noel was jealous of Irene's fangirling over the painter.
Irene thanked Noel for finding her favorite painter, and Noel admitted that he regrets his decision. Irene was shocked to see the dark expression on his face.
Irene quickly calmed him and thanked Noel for being able to locate the painter, as the painter is somewhat mysterious and a hermit. Noel was proud of it and felt happy.

The portrait — It was clear that Noel and Irene were full of love. Irene noticed that Noel's expression was very warm, but she didn't realize that he looked at her LIKE THAT.

Irene would clench her fist when she was stressed or angry. Sometimes, this caused her to hurt herself.
Noel gave the letter to Irene from her aunt and told her that she could clench her fist or hold onto his hand next time.

Noel said to her that her heart would always follow hers, which Irene thinks sounds like a confession.
– Although the journey to the north can be long, Irene will find comfort in Noel's company.
– Do you remember Boris, the jerk? After the entire Irene mess, Noel decimated that family. The family is gone from society.
Noel liked it when Irene called Noel his 'husband' in front of other people.
Carr The Painter
He remembered a couple he had once drawn when he was a rookie, and he decided to paint them. Carr found them both very beautiful because they were so in love.

Carr saw Irene and thought she was the same as the couple he remembered. After the death of the couple, he said it was impossible.
He did not mind that his blonde hair and eyes reminded him of the deceased couple.

He also noticed that our couple was very similar to the previous one (the vibe, they just look in love and look — in Irene's instance) so much that he nearly wept.

He was left wondering why Irene looked like the couple he had drawn before. He wondered if there was a connection.
Irene's Aunt
After Carr returned home, Irene got a letter. It was from Name Friedan, her aunt. This aunt took care of Irene until she turned three
(Noel knew this because of the investigation he conducted on Irene).
Because Irene was not feeling well, the aunt wanted to visit her one more time. Irene was unsure about the request and Noel asked her what she would do.
We were then able to get a little memory from Irene, who recalls being called "dear princess" by her aunt while she lived with her in the northern polar.
Irene went to see her aunt anyway, although I don't know if Chase was connected to the woman because Chase mentioned that she had divorced. There's also no mention of his husband.
Once it arrived at the aunt's house. Irene discovered that her aunt had been sending letters for years, but she never received them.
Noel began to reflect on all the facts he knew and saw about Irene and the Chase family. He said that every word and action of the Chase family is contradictory.
Irene inquired why the aunt didn't travel to the capital because she was very sick. The butler explained that all support had been cut by the Chase family for the aunt.
The support had been cut for 10 years. They (the Chase family) have now left the aunt behind because they don't have the resources and not many people live there anymore.
Irene's Memories
Noel has been wondering if something is wrong with Chase's family and the timeline since the time he heard the story from the butler. He asked Irene to share what she remembered.

Irene doesn't remember much about her childhood. She thinks she was sent to her aunt's house because her parents must focus on Riel (they live one year apart).
She now doubts this and doesn't remember much about her childhood.

Noel stated that Count Chase is the only one who knows the answer (remembering that the aunt was at death's door).
Irene said to Noel that she would see Count Chase when they return to the capital.

But, the count arrived later that night. Noel offered to go with Irene to meet the count, but Irene said that she was fine by herself so she went along with the butler.
Count's Chase
The count blames his sister (the aunt is his sister) for everything that has happened in his life. This includes letting the northerners starve to death.
SHE (idk) was the reason he broke his heart. He then proceeds to ask her for something.

The butler proceeds to blackmail her, but the aunt just held her breath and the room began to hum.
The butler ran into the room, he had been kicked out before. Noel was able to meet the count after he was chased away.

Noel began to question the count about Irene's treatment. The court said that everything he did was like he was trying to hide Irene's identity from the rest of the world.
The count was shocked and told him it was bullshit. Noel noticed that the count's eyes were wilting.

The count confirmed that he tried to keep Irene away from the world, but she ran.
It doesn't matter that he never loved Irene, but there is something his sister had that he must take before it was given to Irene.

Even though the count had left that night, he didn't keep his promise to Irene to speak to him the next morning.
Aunt's Present
The aunt called Irene, her dear princess, and told her that she had a final present for her. The butler led Irene through a secret passage to the basement after the funeral.
Irene was told by the butler that the count wanted the item that was hiding there. A box containing a drawing was found in the room.
Irene saw strange powers when she held the painting. It was the same as what she saw at the banquet.
Then she heard someone say, "Why aren't you here now?" I waited. My underdog (?) Rivera."
The voice continues to say: Rivera, what's the problem? That's ridiculous. It's been a long, tedious time.
Irene: I'm no Rivera.
The voice: Rivera? This feeling was so strong that I felt —. Who are you then?
Irene: Irene. Irene Kristan.
The voice: Irene Kristan. I have never heard of this name. Where's Rivera? I was waiting for Rivera.
Irene: I'm not sure who Rivera is but Madame Friedan gave me her name.
Mada Fredan is the voice. I don't know the name of this person so I follow my contractor until I find Rivera.
The light and voice vanished after that. Irene took the painting in her hands and began to analyze it. The painting depicted a teenage girl with green eyes and golden hair. Irene thought the girl looked like her when she saw it.
Irene asked the butler if Rivera was his friend. The butler suggested that Irene look at the diary of her aunt. Irene was handed the diary by her butler and returned it to Noel.
Irene explained to Noel the events and showed him the painting. Noel cannot look away from the drawing. Noel felt something about the girl in this picture.
Noel And Irene's Family Tree
I believe I wrote in early mtl that the Emperor was still blood-related with Noel's family. After reading chapters 109/110 I realized that this one is incorrect.
There is no explicit explanation of their connection. His family consists of the grandfather (grand duke), —> son (who died with his wife), —> first son (who died in a carriage), and Noel.

I think I was confused by the fact that earlier, the MTL translated their position as "emperor" but it should have been a grand duke.

Based on all the clues so far, Irene is the Empress' previous daughter.
Riel's Feeling
Riel was genuinely in love with Irene when they were younger. Irene was her role model, and she always wanted to be with her.
Because of her condition, she loves her so deeply. She will never know the truth.

One night, Riel was going into her parents' bedroom to go to bed with them when she heard their talk about Irene's birth.
She didn't believe it when she first heard it. Riel thought that their sister was royalty. Is Sister superior to me?

Riel was aware of society's order so she wasn't surprised that Irene was a princess. Irene's place in Riel's eyes is right there, beneath her feet.
She will always be loved by someone who stands up for her. Riel recalled her birthday wish from the past, which was for Irene to stay with her forever.
Irene should be her shadow forever so she can see her.

Now, Riel is upset that Irene was no longer with her. Irene, who was now in the light and standing next to Noel, angered her. She can't wait for her death.
Confession
Our couple decided to go on a second date, this one at a city festival. The carriage was taken back to the car.
Irene shared with me how much she enjoyed the outing because Noel was there. Noel then called Irene.

Noel: Irene
Irene: Yes?
Noel: You are my favorite.
Irene was so excited that her heart beat very quickly because she didn't want to let her hopes down. She was not going to destroy the dynamic she had with Noel
Noel: I love Irene. You are a rational person.

Irene thought Noel was a confused man. When Noel said he liked her rationally, Irene asked him if that meant he loved her.

Noel: Yes. Irene is my favorite because it's Irene.
Noel: I would like to hear Irene's answer but you–
Irene: You too.
Irene: I feel the same way toward Noel.

Irene, just as she declared her love, felt the carriage shake and fell forward. Noel caught her and asked her if it was a dream.
Irene broke down when both men confirmed it was not a dream.

Noel was still hugging Irene when Noel said I love you first. Noel carried Irene into their bedroom, where he began to undress her.
Noel spoke of how he couldn't wait any longer. It was, according to Irene, the night when everything is filled with joy.
Bro-Emperor And Late-Empress
Irene read the diary of her aunt and gave us a glimpse into the past.
The Emperor almost died from poisoning one day. The Bro-Emperor (Sir Windless, young brother to the Empress), claimed that it was the fault of the Empress, who secretly went to the Emperor's bedroom.
The aunt's testimony proved that the Empress was innocent.
The Windless family adopted the Empress as their child. (At this time, Noel and Irene were reading the diary together. The Empress is a member of a different family, which comes from another country.
All her relatives were already exterminated by the empire during the unification war. She was the only survivor.
The Empress tried to revenge on her clan by going to the capital, but she failed. (Remember the spoiler above about a clan that could wield magic, but they were already extinct? Well, the Empress is from this clan.
The Duke of Windless approached her during this time and asked her to become the power for his son, who is the bloodline of the royal family.
They will take her place. Although the Empress accepted the offer, she fell in love with Emperor after marrying him. Because she wanted to preserve her happiness, the Empress refused to follow the plan.
Confucious Windress (Broe-Emperor), falsely testified that he knew the Empress had no intention of putting him on the throne.
Rivera is the real name of the Empress.
Irene Finding Out
Irene initially thought that it was a coincidence that Princess Ren's name was Ren, but she then remembered that Ren was her aunt's nickname.
Irene realized she was the Empress's daughter at that point and suffered panic attacks that caused her to fall to the ground.
She told everyone that Ren was her niece. (She would claim that she was her child, but even the Bro Emperor knew that she was infertile).
Her brother, Count Chase, said one day that he would take Ren to his home. She explained that Ren would be Riel's babysitter.
At first, the aunt was not interested in this but then she realized that Ren is becoming weaker and that Ren will be unable to protect her.
The Culprit Who Killed The Clan
It is Duke Windless. Rivera discovered this after she was accused of tempting to poison Emperor
Final Words
That was all for our article on The Kind Older Sister Is No More Spoilers (Latest). I hope you got what you were looking for.
Let us know in the comments how you feel and do follow us on social media too.