Being a fan of motorcycles, I was always fascinated with superbikes and loved it when they appeared on my screen. And when I see a motorcycle anime then I get amazed beyond imagination.
That is why today on MyAnimeGuru, we will be posting a list of 13+ Best Motorcycle Anime Of All Time (Ranked). The rankings will be based on the anime reviews and ratings given by the viewers.
Motorcycles can be used as a separate genre but it hasn't been yet however, we can't say this about the popularity of this particular term.
So, without wasting any more time let's get started with our list of the best motorcycle anime of all time.
List Of Best Motorcycle Anime Of All Time
Kino's Journey
Akira
Kino's Journey -The Beautiful World- The Animated Series
Ride Back
Super Cub
Genesis Climber Mospeada
Yu-Gi-Oh! 3D: Bonds Beyond Time
Yu-Gi-Oh! 5D's
Baribari Densetsu
The Legend of Kentauros
Megazone 23
Megazone 23 Part 2
Venus Wars
Blassreiter
This is our list of the best motorcycle anime of all time. Though there aren't enough anime based on motorbikes to list down we have narrowed down the titles where motorcycles play a significant part.
So, let's start the justification of each title on our list of best motorcycle anime of all time.
Read Also – Top 10 Best Anime To Watch If You Like Volleyball (Ranked)
1. Kino's Journey
A summary The MC named Kino travels with their companion named Hermes (who has a talk-to-motorcycle) studying different people and their personal stories/cultures and striving to assist those in need whenever they can.
The anime kept me on an edge seat, waiting and in suspense at times however, overall, it has that nostalgic feeling that I'm unable to define…
Overall thoughts I am fascinated by learning about other cultures and cultures, when I saw this particular anime I was like "hmm!" and decided to give it a go.
It's a fact that this is now one of my all-time favorite series, and is one I'd highly recommend to watch for those who haven't experienced the pleasure of watching this motorcycle anime so far.
2. Akira
Let's be very clear from the start This review will be positive. Akira is not just my most loved anime, it's also my absolute favorite animated film barring none, and is one of my top films overall.
Katsuhiro Otomo has made one of the best sci-fi-animated actioners aimed at adults that are above reproach as a movie, a rare find considering most "adult" animation fails horribly because it relies on silly sex gags and absurd plots instead of decent storytelling and well-rounded characters.
Otomo's film weaves themes of honor, friendship, and betrayal with the deadly effects of being a God and gang warfare and corruption, espionage, and the misuse of power. It also maintains the pace of its runtime.
Combine all this in the blender and you'll get one of the best films if not the best-animated films ever made an absolute masterpiece in every sense.
It's a significant piece that is part of Japanese animation history. It inspired the person who created Dragonball Z to create manga and anime after he had seen the poster.
It's also worth noting that Dbz is a show that has been a major influencer on Japanese animation, and I wouldn't be shocked if it inspired other artists.
I've seen both versions of the film, the original dub as well as the dub which was recently shown on Toonami.
If you're looking to see something that helped pave the way for excellent anime in general or just want to see an amazing film, I highly recommend this motorcycle anime.
3. Kino's Journey -The Beautiful World- The Animated Series
A truly bizarre and enjoyable show that has absurdly dumb and outrageous scenes as well as very profound emotional and meaningful moments.
To keep the show spoiler-free, Kino and her talking motorcycle explore a new nation every episode. Each nation is unique in its own stories, quirks, and characters Kino (and occasionally other individuals).
Each country is a different behavior or social issue that is explored. Similar to The Mandalorian because it feels like a side quest, but without a final goal to be seen and just a new adventure.
It's also like Xavier: Renegade Angel for its weirdness, but also for tying into the deeper purpose that lies behind it.
Overall, it a fantastic motorcycle anime.
4. Ride Back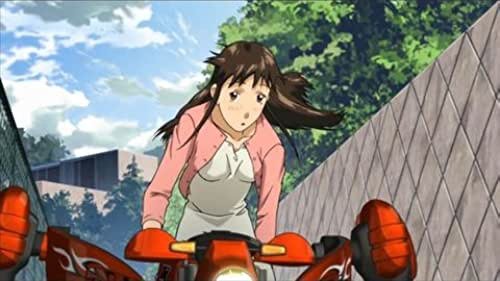 Overall: Some might claim that Rideback is just an average show that has pushed itself to be more than it ever achieved.
It all depends on which perspective you view the show, and I've clearly stated my views and the fans of the show may agree with me.
Rideback is in the middle of the pack, not getting a lot of attention, but also not being underrated However, it's not a show worth watching to be kept in obscurity.
People who are interested in the common conspirative group vs. terrorist groups element will love this, but fans of racing shows may find it somewhat disappointing because it doesn't focus on this issue too much.
Only the first episode is set aside to this to introduce the show. I highly recommend it, and it is not to be missed because it is one of the best motorcycle anime.
5. Super Cub
I enjoyed this show and it was exactly what I needed at the moment as I've been watching Shounen, action, and comedy-oriented anime for six months and this one was a refreshing change of pace.
This show had everything I would like without Romance Just enough comedy and no fighting or absurdity.
Okay, so the story follows one girl who has no money in her life until one day, she purchases mopeds and they change their lives drastically.
The animation was well-done, but the CG that they zoom out was a bit annoying, but the rest was pretty good. The thing I liked about the colors as if she was happy the surroundings would change to vibrant which I enjoyed.
This is the type of anime that you can watch on your own. I watched it all in one session and am not regretting the experience of this amazing motorcycle anime.
6. Genesis Climber Mospeada
This group of people is on the lookout to save the planet from the harm that we do to the earth through pollution. Genesis Climber MOSPEADA is a Japanese animation developed by Shinji Aramaki.
MOSPEADA is a shorthand in the form of Military Operation Soldier Protection Emergency Aviation Dive Armor. It is an adaptable motorcycle armor that these people wear when working.
The animated series tells us about a futuristic society in 2050. The planet is attacked by aliens, and they attempt to conquer the earth. This group of warriors defends the world using their latest technology to keep enemies from harming the planet.
The show is extremely exciting and futuristic because of the action, science-fiction, and even motorcycle anime.
7. Yu-Gi-Oh! 3D: Bonds Beyond Time
Shortly, Earth has become a barren wasteland, where only a few people remain. The one man is Paradox is currently on an adventure to bring the future back by traveling through the past and demolishing the root of this mass destruction.
Duel Monsters. After stealing numerous famous Dragon-Type monsters from the past and causing massive destruction across different periods, Paradox has antagonized and accidentally brought together three of the most famous duelists ever to draw cards: Yuusei Fudo, Judai Yuki along with Yugi Moto, who is The King of Games.
They must take on this formidable opponent to save their home by engaging in a tag team battle that spans time. But can a bond of friendship formed over different periods be enough to stop anyone capable of such a vile act? It's time to fight!
Even if you are not looking for a motorcycle anime, I would recommend you to watch this one.
8. Yu-Gi-Oh! 5D's
Yu-Gi-Oh! 5D's story is set in the future of New Domino Town. 17 years ago due to the failure of a reactor called Ener-D in New Domino Town, the reactor created an intense earthquake, which split The city into two distinct parts.
That is the Satellite city, the droopy and poor part as well as Neo Domino City, the most urban and prosperous area. The main character in the story in the story is Yusei Fudo. He is a child of the Satellite.
He fled to the wealthy city in search of freedom for his people. He also locates Jack Atlas, the King of Turbo Duels, as well as his former buddy who betrayed him by taking the Duel Runner two years earlier and also the Stardust Dragon card, which provided the only opportunity that Yusei and his comrades to escape the Satellite.
A must-watch motorcycle anime on this list.
9. Baribari Densetsu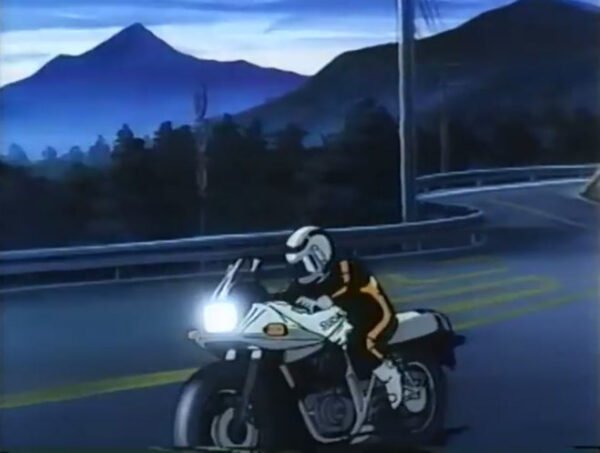 The story isn't novel however if you make it an old-fashioned story, it can make a great film. I loved the dynamic between the two racers who are the most prominent in which a hit to the stomach is welcome and they're never able to meet.
They're adorable and sassy in the same breath. I'm also a snob when it comes to gangs and street brawls, bullies having the blame, and the reckless novice Mc Trope. The film has everything – and more.
The animation alone is enough to convince you to give the idea a shot The animators truly made the effort to create an experience that makes you feel in the same position as the drivers who travel at 9000 miles per hour.
The first-person shots were gorgeous as well as intense and smooth The images were stunning, intense, and smooth! Oh, I'd like to devour them with a spoon. The rough edges are reminiscent of Gun's uncomfortable moodiness.
One of the best motorcycle anime of all time.
10. The Legend of Kentauros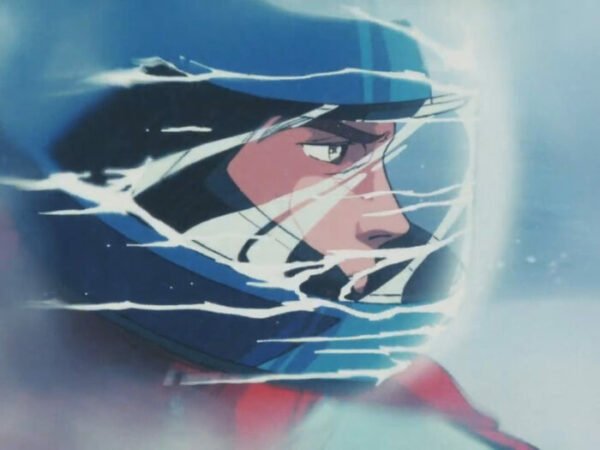 The Centaurs are a racing group comprised of 93 riders who hail from the city port of Yokohama which is named after the famous Greek horse/men.
Arthur and Ken get angry over their feelings for the same woman and decide to settle their rivalry through an event.
What do you think of this film? it's an interesting old racing film. Since I'm not one of the big fans of older anime, I wasn't expecting much, but it turned out to be much better than I expected, even though I dislike the character, it has a fascinating story and I'd like to see it remade.
Overall, I enjoyed it and will recommend this motorcycle anime to everyone.
11. Megazone 23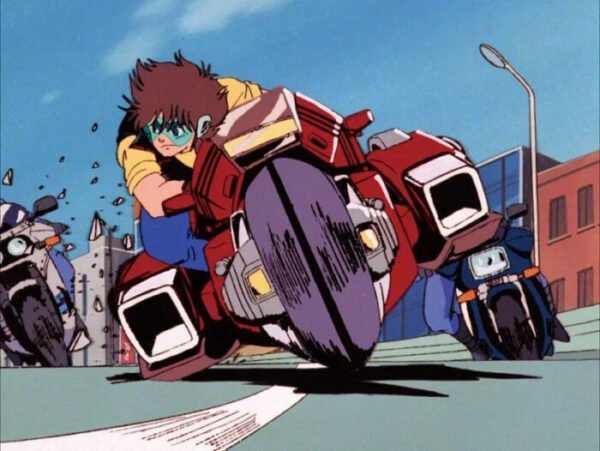 The first thing viewers can notice the first thing they notice about Megazone 23 (pronounced two-three) is its stunning animation.
This is definitely the anime's signature feature, regardless of the age of the animation itself (lots of artifacts are observed within the backdrop) and a look similar to its predecessors.
The fluidity of the 1985 animation is something to behold. The show also is a journey from 1980s Japan to cyberpunk-themed conventions and then back to the same place with consistency.
One of the best features is a feature that Megazone 23 pioneered: the use of music as a tone-setting device for certain scenes. It may not sound like much but the music is amazing in this show.
It's clear where later OVAs, like Bubblegum Crisis, picked this concept and carried it forward. It's also helpful that a lot of the songs used as background music are amazing.
Do watch this one as one of the best motorcycle anime.
12. Megazone 23 Part 2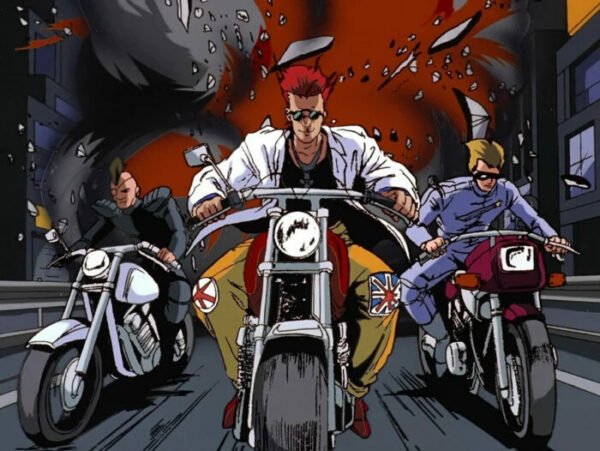 Within the orbital city, there is a military dictatorship that has been established through Colonel B. D. to guard against the weapon that destroyed Earth 500 years earlier.
Shogo and his companion Yui are sheltered in the biker group. With the aid of artificial intelligence Eve and Eve, they are going to confront the colonel to demonstrate that humanity is capable of reclaiming the planet.
A standout in the genre of audio and animation. With just a sluggish storyline to keep it from being a complete failure, Megazone proves that a beat that's booming and high-quality artwork can cover any injury.
Check out this amazing motorcycle anime with all your heart.
13. Venus Wars
It's a pleasant surprise! This one is extremely, superb. The story begins slightly slow, but it begins to pick up the pace and keeps you entertained throughout, and the conclusion is a joy to behold.
The animation is amazing it is definitely among the greatest in the 80s, along with Akira. The action sequences are well-animated, particularly those interactions with the actors and machines, and the explosions, the velocity, and everything else are expertly created.
There were a few scenes that made use of a mix of actual film footage as well as animated which was amazing and completely compatible with the rest of the animation.
The audio is not up to level with the animation but it gets the job done while the music flows seamlessly. The characters are likable to the greatest extent. This is an essential film for everyone but not just motorcycle anime fans.
14. Blassreiter
It appears that all those who have reviewed this show so far have been quite harsh about it. I liked it quite a lot. I thought it had a rich story and deep plot, filled with great themes, symbolism, and imagery.
The most notable themes are the search for meaning in suffering, self-sacrifice, faith in divine mercy, divine providence, and God's mercy, the corruption of power, and the inhumanity of man as overshadowed or balanced by the inherent goodness of man. and so on.
I would recommend this show to anyone looking for a series that will make them think about the important aspects of their lives. It's a refreshing break from the boring linear plots and it is an amazing motorcycle anime.
Final Words
These were all the titles on our list of best motorcycle anime of all time. I hope you got what you were looking for and you have decided which one to watch. Let me know in the comments what you think.
You can also follow us on social media.