I Adopted The Male Lead is a romance drama manhwa which is quite good and gaining traction.
MyAnimeGuru brings you an article on I Adopted The Male Lead Spoilers (Best) which is going to uncover every spoiler for you.
These spoilers are curated by the fans and readers of the original manhwa so you may don't worry about the authenticity of it.
So, let's get started with our article on I Adopted The Male Lead Spoilers.
Synopsis Of I Adopted The Male Lead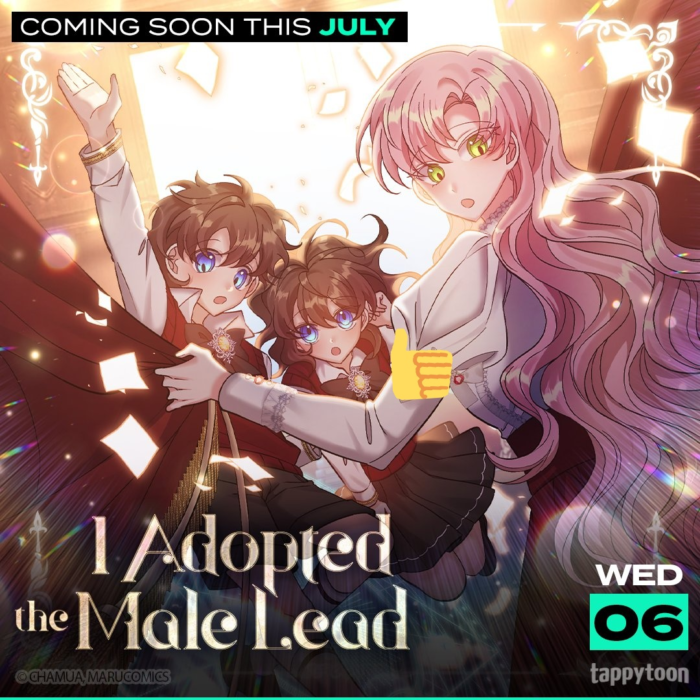 When Karina wakes up inside a novel, she realizes she's been given a chance to change the tragic lives of the male lead, Roland Bleuet, and his sister, Melisa.
Karina saves up as much money as she can and makes a run for it with the children.
But to her dismay, the money she has saved up isn't enough to get the three of them to the capital.
Instead, they head for Torres where Karina bumps into Duke Claude Torres, a "talent fanatic" who is obsessed with collecting talented individuals and an antagonist who will negatively impact Roland's life in the future.
Will Karina be able to protect Roland and Melisa from all dangers and give her adoptive children a better future?
Read Also – Spoilers Of The Manhwa This Wasn't My Plan (Best)
I Adopted The Male Lead Spoilers
Let us start our main article on I Adopted The Male Lead Spoilers.
Characters
Let's start our spoilers with characters.
Carina
Lord Renque neglected to accept that Carina was actually his biological daughter and brought her up as a servant instead.
To prevent the terrible events from the "book" that Carina remembered happening, she tried to protect Roland & Melissa from Renque's savagery.
She went by the name "Carina Bloe" in Thors; she was a young widow with two stepchildren from her late husband.
Before accepting Claude's offer to serve as the household's contract vassal, Carina was employed as a jeweler in Thors.
Usually, she will see the "text in the novel" when she or the kids are in danger. Carina planned her maneuver using that as a guide.
Roland Bloe
He is an intelligent 8-year-old boy in the present who was used as Renque's pawn to create a magician.
Roland developed a fear of magic when they fled the north, but he continued to experiment behind Carina's back because he wanted to keep her mother and sister safe.
The kind youngster begged Carina to return him to the orphanage when he become ill and she was duped by avaricious doctors because he didn't want to be a burden to her.
Melissa Bloe
She survived in the present, and Roland and Carina were very protective of her. Melissa was a skilled wizard who also has a magic talent.
Her genuine talent, however, differs from Roland's. Melissa is an expert at identifying magical auras and their amount of power. Seven years old.
Claude Deviathan Thors
He is one of the supporting characters who make multiple appearances in the "book" as part of his recruitment of Roland.
After being oppressed for many generations by the Imperial family, Claude longed to see Thors restore its glory.
He had terrible success discovering and preserving valuable human resources, and at the beginning of the story, he only has three vassals remaining at his disposal.
Carina Bloe, who could recognize spirit stones, was rejected after he made an effort to recruit her and train her as an appraiser.
After saving Carina's life, he persisted and extended a five-year contract to her.
In Thors, Claude is the one who advises that Carina legally adopt Roland and Melissa (he tried to put his name in the adoption paper's "father" place but couldn't speak it lol lol).
In the epilogue, his request was granted.
Astrid Deviathan Thors
When the Duke and Duchess passed away, Astrid and Claude drifted apart, and she grew up feeling pressured to uphold her dignity as the princess of Thors while Claude disregarded her as a result of his increased workload.
When Roland, Carina, and Melissa moved to the Thors mansion's outbuilding, Astrid made friends with them.
Chess Berkane
After the duke and Carina assisted him in rescuing his brother from an illicit trafficker, Chess eventually became Claude's official vassal (who happened to be a minor antagonist in the "novel").
Because Claude is envious of Chess' friendship with Carina, he made Chess the babysitter and magic teacher for Roland and Melissa as well as the target of his usual random quest.
Lord Renque Britain
Renque intended to produce an Archmage, so he gathered youngsters from orphanages and selected the most skilled ones. Roland was coerced into learning magic by him using Melissa as leverage.
Melissa would be penalized if Roland had failed. "Novel"! After Melissa passed away, Renque started abusing Carina instead.
In the current tale, Renque attempted to track down Carina after she abducted the kids, and when he did, he blackmailed her daughter into giving the kids back to him.
Roland & Melissa were safe thanks to Claude, who had set up a deadly trap for him.
Oliver Larkford / Verriol
To stop the demons inside the abyss, Verriol opened a gap, and Roland dove in, ultimately saving the world.
Verriol wanted to kill Roland before he reached adulthood by using powerful magic to travel to the past.
He broke inside Renque's home, but Carina and the kids had already fled.
The Fantasy Novel in Carina's Previous Life
It isn't a novel. Roland, an Archmage, and Carina, a loyal nanny, are the story's primary protagonists.
Carina agreed to assist Roland in writing his autobiography because he wished to do so.
Except for a few passages (when she was a victim of roving spirit stones and kidnapped by Roland's foe), Carina purposefully avoided writing about herself.
When Melissa passed away, Roland was overcome with sadness, and Renque, at last, revealed the unpleasant truth: Roland and Melissa were never his nephew and niece.
He chose and trained only one unrelated orphan. Roland, who was furious, exacted his retribution and took Carina with him.
Even though Carina was just in her mid-thirties, she had an elderly appearance.
Although Roland was successful in becoming an archmage and helping many people, he lacks a sense of direction in life and is perpetually empty.
The majority of the people who sought to take advantage of Roland's skill were chased away by Carina, who stayed by his side and helped him cope. Claude included.
Claude had numerous encounters with Roland and Carina, but Roland despises aristocracy, thus his proposals were turned down.
Carina feels the same way, even though she has a crush on the Duke. They left Claude behind once he turns insane.
Because of its sensitive content, the autobiography was unable to be published, but Carina continued to revise and treasure it throughout her life.
After escaping the abyss, Roland suffered injuries that prevented him from finishing his mission to vanquish Verriol, and he belatedly told Carina his final request before passing away.
Verriol was creating the magic needed to travel back in time when Carina went looking for him.
Verriol escaped when Carina was unable to ignite the spirit stone. Because the darn stone didn't activate in time, Carina herself was slain.
Carina's soul became lost in the night, and she prayed for Roland and Melissa to be happy and hoped for a second chance.
Carina was resurrected in the contemporary day and led a calm life while recalling her previous existence.
However, she eventually forgot the priceless memories and began to view them as fiction. Carina's second life ended sweetly in the arms of her devoted family since there was no truck-Kun.
Carina only remembered her second life when she was reincarnated on the original planet where Verriol had fled.
She is striving to fulfill her unspoken wish—to save Roland and Melissa from their unfortunate fate.
Daily Life in Renque's Mansion, and Escape
In silence, Carina watched Roland's training in Renque's lab. Roland failed at a challenging spell that Renque made him do. When Carina shielded Roland from the explosion generated by the unsuccessful spell, she was harmed.
Carina and the kids were ordered to rest when Renque became enraged.
Reminiscing about the book she read in her past life, Carina becomes concerned for Roland and Melissa.
Roland and Melissa didn't object to Renque because he said that since they were the offspring of his deceased sister, they owed their uncle gratitude for rescuing them from the orphanage.
Roland questioned whether he could call Carina "mother" even once in the bedroom. Carina held the child because she lacked the heart to refuse.
Melissa went after his brother, and Carina was determined to safeguard the kids. Cleaning the unattractive laboratory is one of Carina's everyday chores.
She cleaned filthy leftovers from the tests, such as the blood or intestines of the hapless creatures who fell prey to Roland or Renques (he always made Roland kill something and threatened to beat Roland if Roland refused or failed).
Carina only partially completed her work. As she washed the wall, letters suddenly appeared in front of her. Carina noticed the text was taken from the book she had just finished.
To produce the ideal Archmage, Renque had to physically replace Roland's blood with magic essence.
Carina decided it was now or never after receiving the final straw in the form of a Text. She sprinted to the kids' room to rouse them up.
She advised Roland and Melissa to gather their belongings and advised them to leave the residence.
Carina took the initiative to pack some clothing and pocket money (she never use it). Carina didn't neglect to steal food from the kitchen either.
Renque is not an early riser. Carina had the chance to take advantage of it, but she needed the kids' assistance. The children were waiting for her when she entered the room.
To assist her to produce homunculi, Carina invited the kids to use their powers. Melissa offered to make the Renque-shaped homunculus, but Roland hesitated. Roland will be the one in charge of the doll, the children agreed.
They succeeded in duping the reliable employee. Carina obtained a carriage and traveled to the neighboring village.
The 23-year-old woman intended to get to Ed Moore, the capital, to hunt for a hiding location, but she didn't have a solid plan just yet.
To secure a ride to Ed Moore, Carina abandoned the carriage and went to a carriage broker.
Unfortunately, the southern region of Thors is the only open carriage route.
Carina begged the gatekeeper to let her and the kids accompany them to Thors since she couldn't wait for the next departure.
Tyson, the gatekeeper, recognized that Carina must be facing difficulties and assisted her in finding a ride.
To save Roland and Melissa from suffering troubles on their voyage, he even assisted in setting up Carina's lodging in the communities they visited.
Tyson's efforts were worth more than the money Carina paid him. Never fear; Carina will return the favor at a later time.
Thors
Roland and Melissa were able to save Carina from the carriage owner's suspicious looks and questions. Carina was referred to as their mother.
They arrived at their destination after a smooth journey (Melissa experienced some motion sickness).
Carina received information about Thors and advice on where to stay from the courteous carriage driver.
After doing the math, Carina concluded that she urgently has to find employment to support herself and the kids. She went to the first inn, but they were turned away.
After receiving the same response repeatedly, Carina eventually understood that she and her kids appeared impoverished and in need of money.
Their only option is the least expensive hotel with dubious facilities.
Carina took the kids shopping while she searched for employment information. She began looking for work in stores, but she received the same response as when she was hunting. Everyone lacked confidence in her history.
When Carina entered a jewelry store, the proprietor outright rejected her due to her lack of experience (he didn't want a beginner who couldn't tell the difference between garnet and ruby).
After giving in, Carina noticed something as she was walking out of the store. an unidentified stone with an odd vibe.
Carina suddenly experienced burning throughout her body. She stumbled and writhed in agony. She was thinking helplessly about her kids when something almost knocked her out cold.
Carina noticed the discomfort gradually fading as she made every effort to hold on to the source of the cool sensation. Suddenly, she realized she was leaning against someone's chest.
Final Words
That was all for our article on I Adopted The Male Lead Spoilers and I hope you liked the article.
You may share your views and opinions in the comment section and do follow us on social media too.