Volleyball is one of the most played outdoor games in the world and it is also quite popular in Japan. The reflection of it can be seen in the anime and manga industry too.
Today on MyAnimeGuru, we are going to post a list of the Top 10 Best Volleyball Anime To Watch (Ranked). This list will be ranked based on the anime reviews and ratings given by viewers of the show.
People love to experience the rush of sports adrenaline and anime plot together and this is a very good feeling they get from sports anime. That is why over the years, the popularity of sports anime has been going up.
So, without wasting any more time let's get started with our list of best volleyball anime to watch.
List Of Best Volleyball Anime To Watch
Haikyuu!
Wotakoi: Love is Hard for Otaku – Youth
Harukana Receive
2.43: Seiin High School Boys Volleyball Team
Attack No. 1
Attacker You
Zoku Attacker You! Kin Medal e no Michi
Attack on Tomorrow
Shoujo Fight: Norainu-tachi no Odekake
Kougyou Aika Volley Boys (1997)
There aren't many volleyball anime releases but after long research, this is our list of best volleyball anime to watch. Let us discuss why we chose these titles to be on our list of Top 10 Volleyball Anime.
1. Haikyuu!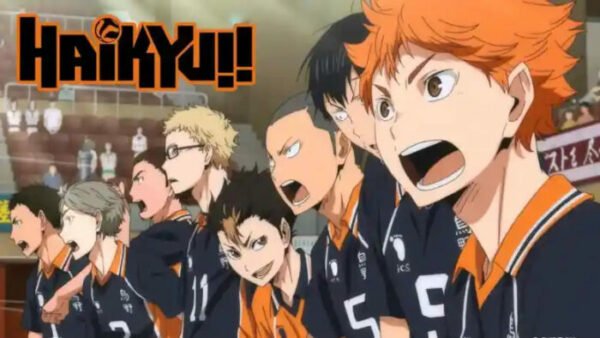 The anime is certainly an absolute masterpiece, particularly when it comes to animation. It's quality among other sports-related animes.
It is among the most effective and, of course, it has a distinct story. It also has a wonderful character that is both for the main character as well as his opponents and players from his own and teams of his opponents. The opening is excellent and I especially enjoy the sound.
This show is incredible. I was very nervous to watch the show because it was a volleyball show and I don't have any interest in the sport, however, I am happy I watched it.
This show makes me laugh my head off since the characters are hilarious and other times causes me to cry as if I'm a little shit because the fantastic storytelling has me rooting for each team, thus I am sad when one falls.
The sound is excellent, and the animation is amazing and I'd recommend it. It is probably the best sports as well as volleyball anime of all time.
Read Also – 14 Best Manga To Read If You Liked Haikyuu (Ranked)
2. Wotakoi: Love is Hard for Otaku – Youth
I found this show when I was browsing Amazon prime video. I don't know what attracted me aside from the beautiful artwork and the music that started the show.
When I first met the characters, I fell in love with the show so much that I decided to find out the place where the show ended in the manga, and thankfully enough, there's more to the story! I hope that they will make an additional season.
I've seen the first season probably 30 times, and can't recommend this show enough to hopeless romantic anime fans! It's more of a romantic anime but the volleyball aspect is really good in it. That is why I added it to our list of best volleyball anime.
I was close to tears. God knows how those two got together and what happened at the end gave me a rush of joy I was so happy! I hope that the manga artists draw more chapters, and will eventually create a second season. It would be awesome!
Read Also – 17+ Best Anime To Watch If You Like Racing (Ranked)
3. Harukana Recieve
The main surprise was the incredibly surprising extremely well-created characters that had different personalities. They were so good to each other in their interactions and the story was extremely interesting.
I believe I had given up on the fanservice by the end of the second episode and was completely engaged with the characters and the story. In all honesty, I don't believe there's a weakly written character in this episode.
I was so engaged in each of them that I was always wanting more and decided to read the manga after I finished the anime. The show is also well-animated, which was a pleasant surprise.
The usual sports anime shows static scenes the majority of the time since complex motion is difficult to achieve, especially when it comes to team sports, but the show didn't have that. The majority of scenes were animated and sharp.
I highly recommend this volleyball anime.
4. 2.43: Seiin High School Boys Volleyball Team
I enjoyed this series I was convinced that it was a captivating story and beautiful animation. I will admit that initially, I wasn't at all interested in this series, but as I watched the anime, I started to appreciate it more because of the character development as well as the introduction to the other team members.
While watching this show, I felt a strong connection to the two principal characters Haijima and Kuroba I felt that the growth of Haijima's character was done extremely well, as it was clear that he is often misunderstood due to his personality.
I have heard arguments that suggest his character is old-fashioned, however, the way it was presented by introducing his backstory was fascinating and gave me more understanding of the character.
However, there were times when I did find myself annoyed with the dialogue and the absence of footage of them playing volleyball. There was an occasional reference to the score, without actually seeing them play any game, but it was not that bad.
I believe the plot was interesting and based on what I have heard from other people, it took a while to get to the show and once they gave it a go, they loved it.
This is no doubt one of the best volleyball anime of all time.
5. Attack No. 1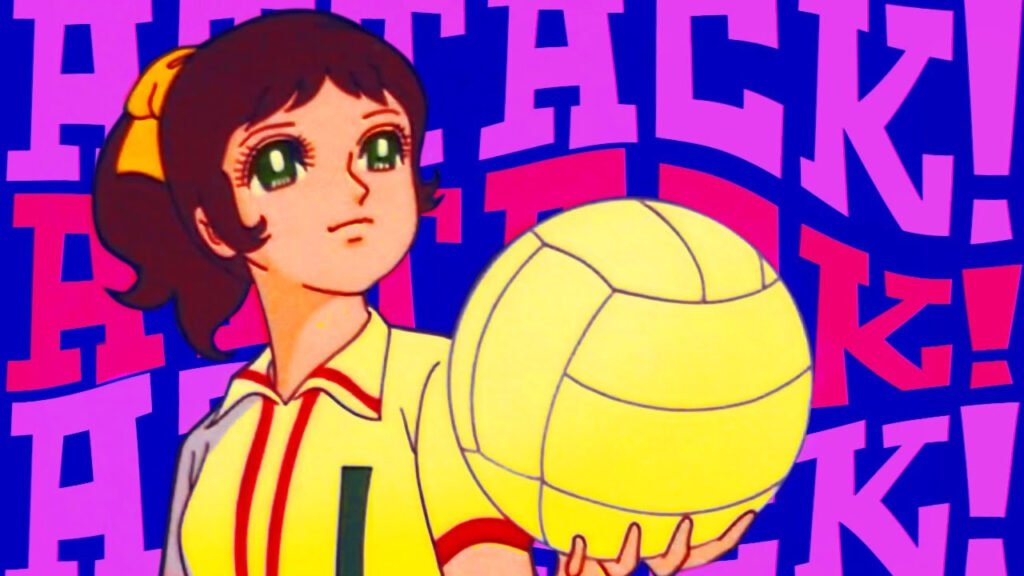 This is an amazing classic which was also the very first female sports-related show to be broadcast on Japanese television. Kozue is an anime volleyball player who hopes to become part of the national volleyball team.
This superb volleyball anime follows Kozue's rise to fame from the age of a child playing at school and culminating with his incredible accomplishment of becoming a world-class volleyball player.
Her climb to the top of the heap has been difficult. She has faced many challenges and is at war with team captain Yoshimura. She can survive with the help of her best friend Midori Hayakawa and her trainer.
Although it's not as corny as it might appear, it does a fantastic job of portraying the struggles Kozue faces and makes her get to the top of her sporting professional career even more satisfying.
This show continues to be well-received throughout Japan and is believed to have contributed to creating the sport-related genre of anime, especially volleyball anime.
6. Attacker You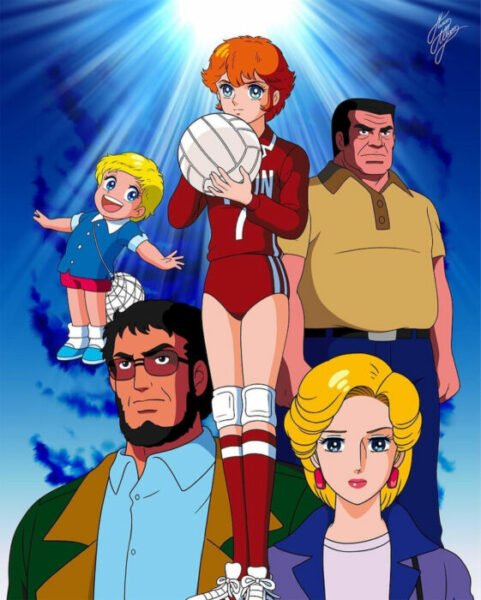 The athletic and cheerful You Hazuki entered Hikawa Junior High School at the time, she was not a fan of playing volleyball. However, after falling deeply in love with Sho Takiki as the team's boys' volleyball captain.
You decided to join the girl's team against her father's wishes with the hope of becoming a top player in the national team of Japanese women's volleyball! In the coming months, she learns how to handle the brutal coach of the team and the pressure of ever-changing difficult games.
You will become closer to her beloved boy and devote all of your energy to winning his heart and her games. It is a very interesting story and one of the best volleyball anime ever.
7. Zoku Attacker You! Kin Medal e no Michi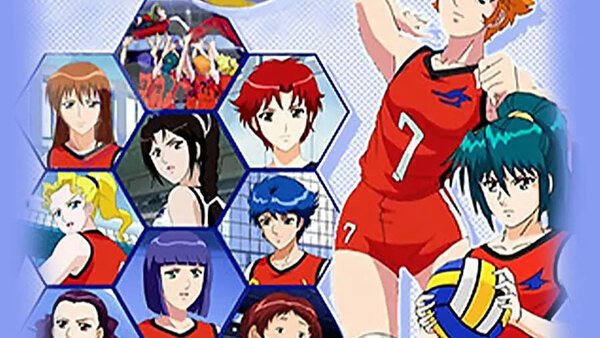 "New Attacker You!" is a 52-episode TV anime show that is made in Japan as well as China. It's a sequel to the well-known "Attacker You!" that premiered 24 years ago.
This new animated series was developed in conjunction with Knack Productions for the 2008 Beijing Olympics.
The show, which was produced by Tomoharu Katsumata, premiered in China on Cartoon Darian and was subsequently released directly to DVD in Japan without the TV network.
Female athletes who are young and enthusiastic strive to be the best in the game of volleyball. Outside of the court, there is a risk of being fired if they fail to succeed, as also love family, and conflicts with friends.
A great title on our list of best volleyball anime.
8. Attack On Tomorrow
This action-packed sports drama is about a group of girls who make up an elite volleyball team at their high school. The majority of these volleyball shows feature female characters for some reason. In the same way, it's similar to this.
This anime follows a bunch of girls in high school who are obsessed with volleyball. Their goal is to be the first team to win their first National High School Volleyball League It's not going to be simple but, with their teamwork effort, they'll try their best to avoid being unable to achieve their goal.
Throughout the entire anime, the team will be tested both on a psychological and physical level, as they ascend to fame and learn important life lessons.
It's likely to cause lots of strain and effort however, it's good to share the stress with your buddies. Girls acquire crucial life skills by playing the sport of volleyball.
A worthy title to be mentioned on our list of best volleyball anime.
9. Shoujo Fight: Norainu-tachi no Odekake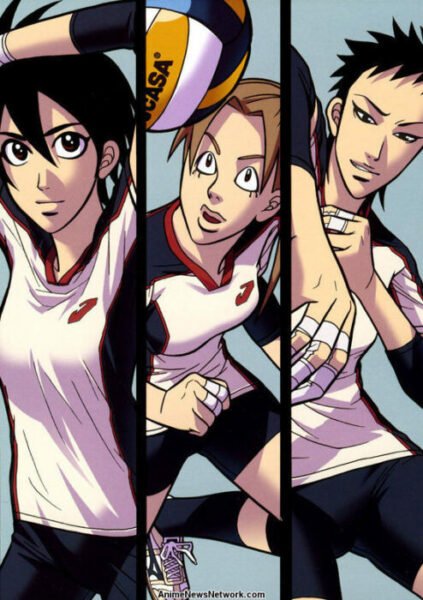 "Shoujo Fight: Narainu-Tachi no Odekake" is a distinctive volleyball animation. It's only 30 minutes and if you're a fan of volleyball and would like to watch an animated short about it you must watch this.
It's not exactly a masterpiece and you'll never feel attracted to the characters however, there's some great volleyball action. The main character of the anime is Neri Ooishi, a senior high school student.
She has a lot of talent for volleyball. She was the head coach of her primary school's volleyball team. This team placed second in the National championship.
But, something is stopping her from enjoying the sport she is passionate about and she's trying to hide her skills as an athlete in volleyball.
What is it that has caused her to slow stop? What is the reason she has decided to leave despite her love for the sport?
Watch this fantastic volleyball anime to know the answer.
10. Kougyou Aika Volley Boys (1997)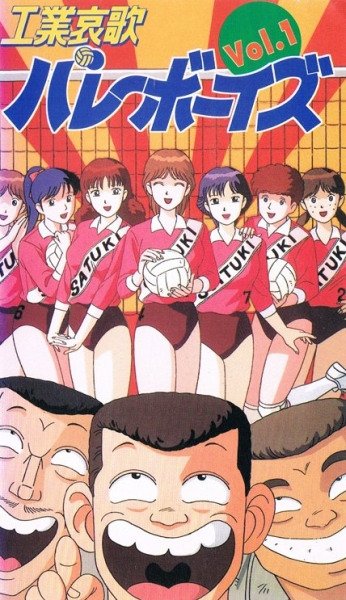 In a scenario that is reminiscent of Field of Dreams and Ping Pong Club, sex-deprived adolescent males from Kudo high school get involved in teams of girls believing that if they can create it, girls will join even if the year isn't even a single girl.
The story revolves around three students, Akagi, Miyamoto, and Taniguchi, and is called The Numa-K 3 Baka Trio ("The Asanuma Technical High School Idiot Trio").
In an attempt to get noticed the trio creates an additional volleyball team at their school. Last but worthy name on our list of best volleyball anime.
Read Also – 10+ Anime To Watch If You Like Basketball (Ranked)
Final Words
I hope you got a few names in your watch next list from our list of top 10 volleyball anime. If this article helped you even a bit and you want more content like this then do let us know by sharing our website or subscribing to our newsletter.
You can also follow us on social media.