Tragedy, Drama, Romance, and Melancholy, combined with anime forms something super amazing called the best sad romance anime to watch.
Today on MyAnimeGuru, we are going to post a list of the Top 15+ Best Sad Romance Anime To Watch (Ranked). This list is going to be ranked based on the anime reviews and ratings given by the viewers of the show.
Romance is a broad genre in the anime industry and is quite popular among anime fans. But, when romance meets drama and tragedy then they become super interesting and amazing to watch.
That is exactly what we brought for you on our list of best sad romance anime. So, without wasting any more time let's get started.
List Of Best Sad Romance Anime Of All Time
To the Forest of Firefly Lights
I Want to Eat Your Pancreas
Rurouni Kenshin: Trust & Betrayal
Your Lie In April
Anohana: The Flower We Saw That Day
Rurouni Kenshin: Seisouhen
Orange
The Garden Of Words
A Lull In The Sea
Looking Up At the Half-Moon
5 Centimeters per Second
Honey and Clover
Hal
Clannad Movie
Scum's Wish
Rumbling Hearts
[Warning: Every anime in this list will make you cry. ]
These are all fantastic and my favorite sad romance anime of all time. I can guarantee you that no one among these will let you down with their extraordinary stories.
Let us discuss why we chose these titles to be on our list of best sad romance anime of all time.
1. To the Forest of Firefly Lights
The young girl Hotaru meets is lost in the forest and encounters a spirit known as Gin. But there's one issue. Gin is unable to touch humans, or Gin disappears.
But, Gin helps Hotaru out of the forest, and Hotaru returns to visit him each summer.
The heartbreaking relationship between these two since they were unable to connect all the time, yet still fall in love with one another will be awe-inspiring.
The timing of this anime is just right and in only forty minutes, the writers did great work. Animation and sound enhance the greatness of this show.
The film may be short, but it sent me on a rollercoaster of emotions. I could be smiling for the next and then tearing my eyes out. Overall, it's an excellent short film to watch. Warning: Do not go to the theater if you do not like sad romance anime.
2. I Want To Eat Your Pancreas
It broke my heart and caused me to cry, but it was incredible. I knew what the film would be about based on its title and the film certainly fit the bill and even exceeded it.
Although the romance was not as strong however the way they dealt with it was in line with the story they told and also matched the way they portrayed their emotions perfectly.
The first scene set the tone for the final scene and the middle was joyous (even humorous in some instances) when the main characters grew and became more close.
Some may say that it's a bit slow, but that build-up was a huge hit for me I needed a box of tissues close by for a while, and who doesn't like the occasional heartbreak and often.
Right? It was a heartbreaking sweet story that I will never forget. Especially since I'm likely to go back to it when I you're in the mood to appreciate life and to have a good cry. I suggest giving it a try when feeling a bit moody.
No matter when it is, or in a couple of months, perhaps the year after, whenever you go to see it, you'll see what I'm talking about throughout this lengthy review. It's a sad romance anime film I can't recommend it more highly.
Related:

14+ Best Slice Of Life Anime To Watch (Ranked)
3. Rurouni Kenshin: Trust & Betrayal
This is a masterful animation period. It is the prequel to the real series Rurouni Kenshin that was produced during the middle of the 90s. It is shown at the mid-point of the manga's first classic created by Watsuki Nobuhiro.
You don't need to go through the lengthy anime before you can appreciate the movie. This movie is perfect for me, and that's why I enjoy animation more than live films.
Overall, this is the most tragic love story I've ever read, yet it's so well made. It is (but not ) close to perfection. You'll probably shed tears when the ending gets closer to what I was wracked with tears.
It's not just because of sorrow, but also for the love and joy the two characters experienced in their everyday lives as farmers. This is one of my favorite sad romance anime over time and is a must-see.
4. Your Lie In April
Your April lie has all the elements of a romantic story. The actors had the looks and disposition, as well as the potential.
It was only that the romantic concept was being subverted by many other elements that, when taken together make this show enjoyable to watch.
A compelling story may have an element of sweetness but it should stand out against the sandpaper of times. If you're looking for a sad romance anime I believe this one is sure to have other animes out of the water if you're interested in romance.
If you're even interested in music or are interested in romance-themed anime and romance animes, then this anime is worth your time. It's unlike any other romance show I've seen and I've watched much MANY romance-themed anime.
This is incredible because I've not seen an anime that combines music with romance, and adds an entirely different spin on the genre. I highly recommend this anime to anyone interested in a sad romantic story.
Read Also – 17+ Best Manhwa To Read If You Are Into Romance (Ranked)
5. Anohana: The Flower We Saw That Day
It was an excellent film.
The development of the characters was amazing the way they were joined like glue, and then after losing, they broke apart in a way that was unimaginable and treated each with apathy, and the way they attempted to change their attitude, getting rid of their guilt and cooperating to assist the girl they loved to get forward in her life.
The story of unrequited love, regret broken friendships are done well. Each character has a story, regret, and resolution which makes them more authentic as human beings.
Stunning sad romance anime, well-produced and superbly executed. The final scene was stunning and had me crying with my companion for hours. WOW! I loved it.
6. Rurouni Kenshin: Seisouhen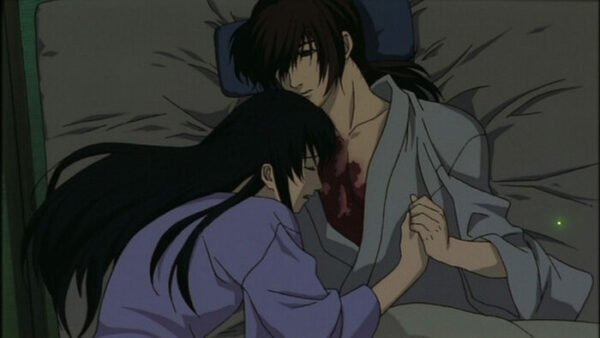 The first part was brief reminders of the most amazing elements of the tale (including the arc which isn't animated but is quite significant) from the perspective of Kaoru.
The following portion of the OVA is the full package that, in my opinion, will make the whole series very unlike anything we would think of and is therefore truly special and memorable.
I love everything about the show that was presented. The presentation was excellent that shifted from flashbacks and flashbacks to flashbacks in a fluid and fluid manner that doesn't give an illusion that you were in the distant past, but you are actually in the present, living the characters' memories and their behavior.
They seem authentic with lots of emotions throughout with a great direction. I have completely immersed myself throughout the entire film from beginning to conclusion with ease thanks to the aid of animation and music.
For me, this was an amazing ride, that was even more enjoyable than Tsuiokuhen, and is an absolute Master Piece when it comes to sad romance anime.
7. Orange
If you've just begun watching this, don't quit since the animation can be slightly odd. You'll become used to it. I was ready to let it go initially however I'm so glad I did not! It's been among the most heartbreaking shows I've ever watched!
Every episode had me crying for an entirely different reason! I'm not able to claim that "you will never regret this" because I can't guarantee this, but it was life-changing! Idk why this show isn't being talked about as extensively. I'll never be the same again after seeing Orange.
P.S. If you don't wish to go through the same pain, consider watching all the episodes in one go. If you're looking for lots of heartaches through a sad romance anime, just watch each one at a go. I would have loved to binge the entire thing but I managed to get it completed in three parts.
8. The Garden Of Words
Wonderful story …. You'll be teary-eyed by the time you conclude. The characters are as real as they can be and the final scene is stunning and realistic. Animation is superb, Sound just sets up the atmosphere for the entire film.
The love story between two young boys and an older woman, which is often misinterpreted as love is depicted with great skill, proving that love doesn't have a distance, nor does it require any kind of commitment from you, it's just the way you live life:)
If you are a fan of sad romance anime, and you are a human with emotions, this one is not one to miss.
9. A Lull In The Sea
The human race started in the ocean. As time passed, those who were fascinated by the land decided to leave the ocean for an idyllic life in the sun. There is now a delicate peace between land dwellers and those who live in deep.
The journey begins when the underwater academy of Shioshishio shuts down, requiring four of our best friends to connect two countries and go to school alongside the inhabitants of the land.
The rest of the story is a coming-of-age tale filled with unrequited affection hopes, sadness, rejection, growth, and acceptance.
The anime made me sad. I could not keep watching the anime as the scenes touched me deeply. Altogether, they gave me a lot of lessons about love and friendship.
One of the best sad romance anime of all time.
10. Looking Up At the Half-Moon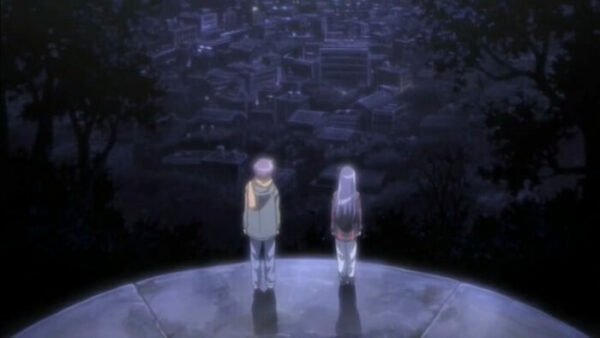 An anime that is guaranteed to make you cry even if you're not someone who typically tears up in anime. The show has everything. It the perfect plot with Forbidden Love, Abuse, and drama.
We see the world through the eyes of Yuuichi when the story takes place in a hospital. One day, he spots an almost beautiful girl and is eager to meet her.
When he meets the girl, after finding the name of her was Rika she reveals that there's more to her beauty than her appearance. She's beautiful but lonely like a lot of people are. Because of this, she's rude and rude to him.
Being able to discern her actions Yuuichi is close to Rika and they are in love. Unforgettable love is what they must overcome many hurdles.
This is a must-watch for anyone who loves sad romance anime.
11. 5 Centimeters Per Second
5 Centimeters per Second (CPS) was the very first encounter I made with Makoto's work, and I was completely stunned by work. I didn't think I could enjoy such a beautiful scene in something that's animated, rather than 3D.
It's safe to say that I have become an admirer of the work. Shinkai since that moment (at the time of writing this review, I had already seen most of his work, but 5 Cm holds a special place inside my head).
I'm sure you've heard of 5 Cm animation before you saw it. Like me, that's what enticed you initially and I can assure you that it is the most beautiful anime I have ever seen without a doubt.
The animation and sound design are perfect and nothing I could do would do that justice.
It is a must-see if you love a slice of life or sad romance animes, or just general animes because this is an outstanding piece.
Read Also – 17+ Manga/Manhwa To Read If You Are Into Gender Bender Stuff (Ranked)
12. Honey And Clover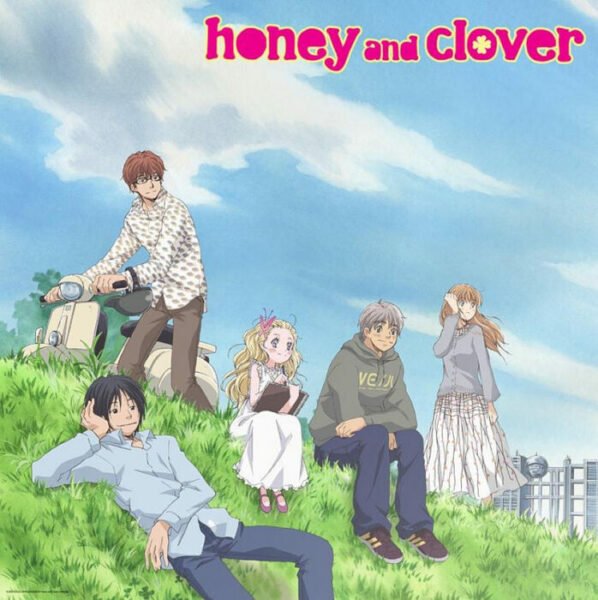 A refreshingly original perspective on life in a slice in which the characters develop and mature at a realistic pace while staying true to their own.
The question "How much further can I travel with no regard to the past?" is frequently asked and illustrates how each of them strives to move forward, but retain their past and let that hold the way back, or permit them to move forward. The show was phenomenal from beginning to end.
I highly recommend this show to anyone who is an early teen no matter what gender and looking for a sad romance anime. It's one of the places where most people will find something they can connect to and will be a lasting memory.
13. Hal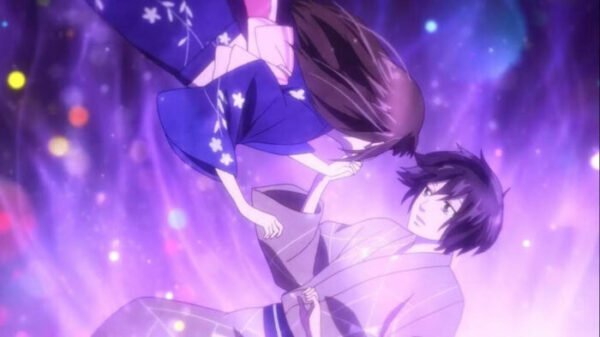 What can we do to handle the grief so intense that it makes you lose touch with reality? How can we assist people to come back to their reality to assist them in healing?
This is a beautifully animated film that demonstrates the best way to answer these questions using robotic therapy.
The sound was clear clean and symphonic throughout and perfect when the facts are revealed in the aftermath of another tragic event.
The process of healing is learned and the grieving is brought down to an acceptable, manageable level of coping.
This was a gorgeous sad romance anime movie that caused me to weep more often than another film has.
The plot was so radically changed that I could not stop crying, even as I tried to comprehend what was going on. The characters are gorgeous and I'd love to take a second look!
14. Clannad Movie
Given that the film was released before the show, I believe they were pretty successful! I watched the show first so that I could see the differences, but the essence of the film was the same.
I loved the film in all its aspects and I was crying almost as much as I did in Clannad After Story. I've always been a big fan of Clannad the Visual Novel.
This movie highlights the most popular arch that most people tend to go to. The film did an excellent job of presenting it to the audience. The final scene of the film brings me back to why I am a fan of Clannad so much.
I love how the theme of the family being a part of it is continuously reaffirmed throughout the movie and what could be the consequences of separating yourself from your friends and family.
It sends tears, even to my eyes when I see the beautiful tale and I'm hoping you feel the same way as all of you. A beautiful and one of the best sad romance anime of all time.
Read Also – 14+ Best Manga To Read If You Like Yona Of The Dawn (Ranked)
15. Scum's Wish
This was deep and moving, sad and uplifting all simultaneously. The unrequited love was emotional and deep, and it was clear the affection and the pain of the characters!
They all desired something they were not able to get, and were so disappointed that they believed they required someone else to fill the void to achieve satisfaction!
It was evident the need and desire the characters had for their lover and it enthralls your heart and makes you feel the emotions of wanting for the characters to have what they desire, but at the time they realize that they will never really meet that person regardless of whether it appeared to be a good fit.
I highly recommend this sad romance anime show. It's very deeply emotional, touching, and touching However, it also prompts you to consider love and people's perception of love all the while. Excellent show!
16. Rumbling Hearts
Kimi ga Nozomu Eien is a dramatic romantic animated series (with dramatic elements) that far over-delivers expectations. It was a depressing mood as the last show I was watching is School Days, which is not like this one!
Not only did it make me feel better, but it also reminded me of how much I enjoy romance-themed anime when they're done such as this. The most romantic anime! It also performs a feat that only a handful of other animes have done and it can do it correctly.
It's a way to pass the time. The show has themes for mature audiences, and those with younger viewers might be bored or bored.
All I can say is, go see it! You may have a difficult time finding the film in English however its Japanese audio is produced exceptionally efficiently. If you're normally unhappy with romance and sad romance anime, then take a look at this.
This is an essential anime! If you don't enjoy this, then you'll just be an empty cavern of frost. This show reminded me of why I loved the romance in the beginning.
Final Words
They say "Love is the greatest sin". Well, we have reached the end of our list featuring the best sad romance anime of all time.
I hope you got everything that you wanted with your search. We have more articles on our website related to manga lists, manhwa lists, and anime content.
You can also follow us on social media too.