Well well, who doesn't love racing? Especially if you are a boy, I bet you imagine yourself on the steering wheel overtaking every other car in front of you.
Today on MyAnimeGuru, we are going to post a list of the best racing anime of all time. The list will include the best car racing anime as well as other forms of racing too. But the majority of them would be car racing anime.
Racing is so underrated in the anime and manga industry. People don't usually get to racing genres in the anime soon but once they get, they get addicted.
So, without wasting any more time let's get started with our list of the 17+ Best Racing Anime Of All Time (Ranked).
List Of Best Racing Anime Of All Time
SK8 The Infinity
Initial D
Redline
Yowamushi Pedal
Run With The Wind
Blassreiter
Ride Back
Overdrive
Oban Star-Racers
Bubble
Speed Racer
IGPX: Immortal Grand Prix
Uma Musume: Pretty Derby
Capeta
Appare-Ranman!
Wangan Midnight
Tailenders
Idaten Jump
This is our list of the best racing anime and car racing anime of all time. The list includes car racing anime, motorcycle racing anime, and many more. Now, let us discuss why we chose to have these titles on our list of best racing anime of all time.
1. SK8 The Infinity
I wasn't expecting much from this series I was expecting that it would be just a humorous show that I would enjoy but I didn't anticipate experiencing such an exhilarating rollercoaster that I'd have to scream at the computer screen for the entire episode and that the week-long waiting time would kill me.
A great story with a twisty plot a lot of sexy, intriguing, and diverse characters with interesting backstories, and maybe an upcoming gay romance (I've been watching up to episode 9 at the moment). I'm eager to see how things unfold and can't recommend the show enough. It has engulfed me.
I will say that this is probably the best racing anime apart from the car racing genre.
2. Initial D
Initial D's first stage began slow, but the entire storyline in this show has been fantastic. Each car scene's CGI was nice, but the cars were stunning. The music was top-quality. Eurobeat was incredible, even the Soundfiles were better than the Eurobeat. However, Stage 1 Animation is amazing compared to the other ones.
This is by a tiny percentage one of the top series I've seen. It accomplishes what it's meant to do, that is to describe street racers in a way that isn't cluttered with imperfections.
Takumi can take on each challenge one at a time and is not dependent on the others even though they are all part of the same time frame and impact his status.
When his mob buddies tell him reasons for why he should or should not take on the next race and you start to wonder what plot twist is required for him to be able to compete this time and increase the tension.
If you are into car racing and even if you aren't like me, watch this because it is one of the best racing anime and the best car racing anime.
3. Redline
It's one of the most enjoyable experiences I've had watching anime. Redline is full of characters in all of my favorite ways.
From the art style to the way it is presented, the characters' designs and attitudes as well as everything else This movie is close to perfect for me.
It's not just an outstanding Anime film, but it's an excellent film in general. I'll be recommending it to all my friends who like films because it's an amazing experience that must be shared.
I'm extremely disappointed to learn that this was a failure at the box office and I'm sure it will mean we're not likely to see anything similar to this ever again.
This film is my top 10 movie selection I can't envision it ever getting off the list of best racing anime movies.
4. Yowamushi Pedal
Yowamushi pedal is an excellent anime. Onoda is a highly relatable character and the overall theme is uplifting.
The pacing maybe not be the best, but you'll forget it when you're in the heat of the race, as you sit at the edge to see who will win.
If you're a fan of sports-related anime then I'd suggest you not bother with this. Because the characters attempt to make the sport more interesting to make it look as exciting and amazing as possible. In addition, you must consider giving it a go.
This is one I'm watching and watching again, but it's certainly one of my top-ever-made anime! I cannot stop watching it. It's adorable, the characters are wonderful, and it's gorgeous in every aspect! So glad I chose to go and watch it.
One of the best racing anime.
Read Also – 17+ Best Soccer Anime Of All Time (Ranked)
5. Run With The Wind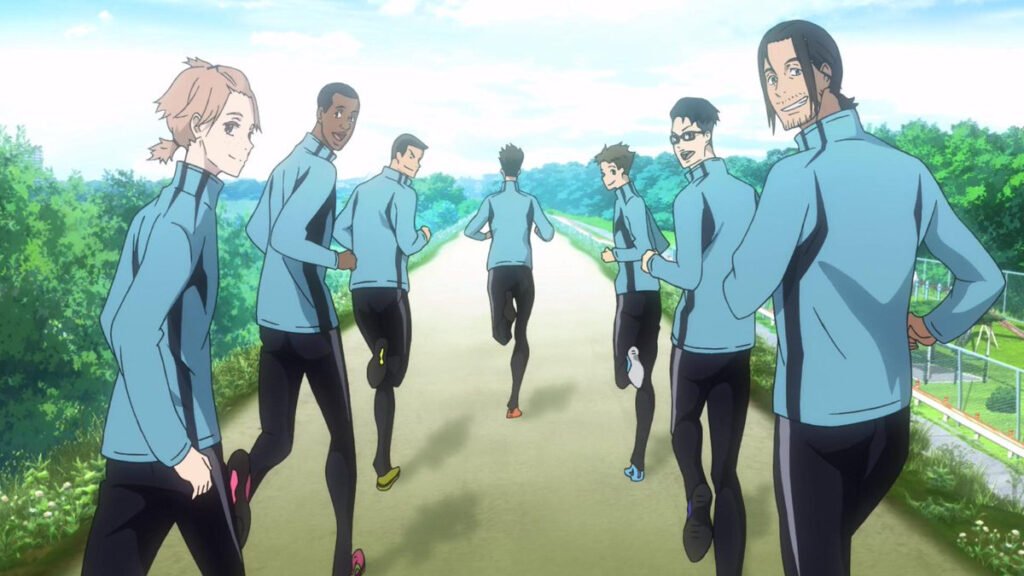 My initial fascination with the show is due to my passion for running, and, in the end, I was satisfied with the show. It's realistically executed with no bias or coin-toss-won contests, and you can witness the hard work each character has put into the close of the show.
The characters' growth is very satisfying to follow until the conclusion. Sports anime can be monotonous and boring if it's not executed correctly. It could be a real-life contest or one that's been fabricated and designed to be thrilling.
Run with the Wind was one of the latter! I was captivated by this show. It's the type of show that makes you think "Man I'm curious to know what's going to happen next!" It's not predictable, and it's not a slow-moving film. It's up to its name and is one of the best racing anime.
The animation was straightforward and well-crafted and the music was perfect for the story. Run with the Wind was an exciting journey that brought me back to my early running days.
If you're thinking of watching this show, go for it! I enjoyed it and it's worth a look at, to say the least.
6. Blassreiter
I found it to be quite enjoyable. I thought it had a rich story and deep plot, filled with great themes, symbolism, and imagery (though, you probably need to know a bit about Christianity/Catholicism to catch that).
A few of the themes that stand out are finding meaning in suffering self-sacrifice and faith in God's grace, the forgiveness of God's mercy, the corruption that is power, and the inhumanity that man is as balanced and outweighed by the goodness inherent in man, etc. The list goes on and on.

The animation is decent. It's not the best, but it's not so bad that you sigh whenever you see it. The CGI could be a little jarring initially but it gets comfortable with the effect.

I loved the soundtrack the show chose to use, and I thought the characters were well-constructed. It is one of the best racing anime.
I would recommend this show to anyone seeking a show that will inspire them to think over the biggest aspects of their lives. It's a refreshing change from the boring linear plots that are common in other anime.
7. Ride Back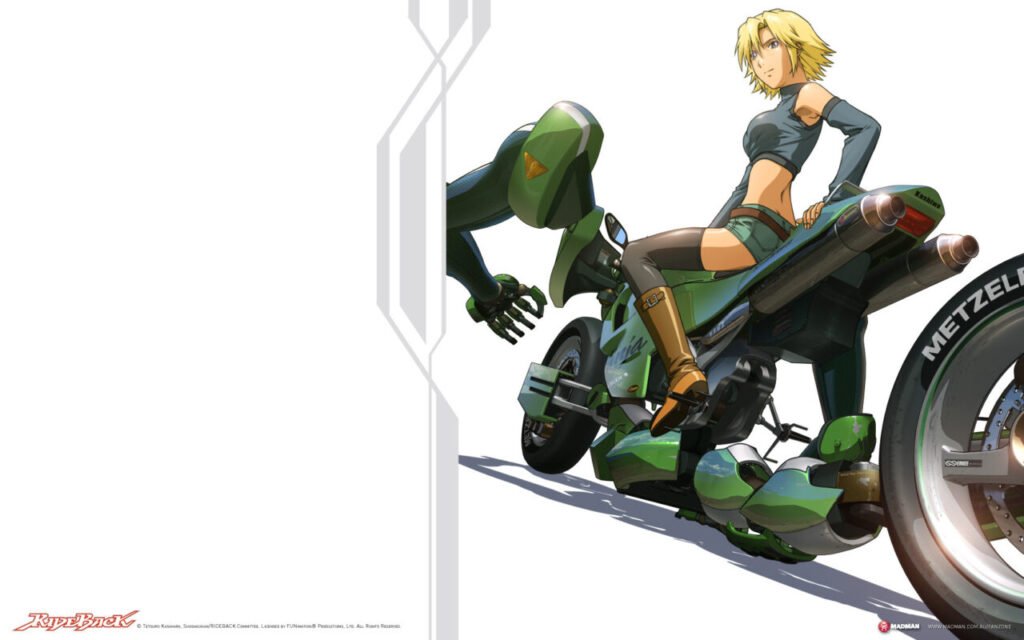 Many people may think that Rideback is just an average show that was able to reach a higher level than it has ever achieved. However, it depends on which perspective you view it from, but I have clearly stated my views and the fans of this show might be able to agree with me.
Rideback is in the middle of the pack, not being a huge hit, but also not being underrated However, it's not a show worth watching to be kept in obscurity.
People who are interested in the common conspirative group vs. terror groups aspect will love the show, however, those who love racing shows may find this somewhat disappointing as the show doesn't dwell on this issue too much. only the first episode is set aside for this particular aspect as an introduction to the show.
I strongly recommend it and it is one of the best racing anime.
8. Overdrive
Overdrive is a sports anime about a young boy who wants to impress his teacher by joining his brother's cycling team. It's at least the beginning. After this brief introduction to the "hero's" life This grumpy, whining person discovers that cycling is something he would appreciate and could make him unique.
If you're looking for characters, I believe that's one of the strengths of Overdrive. I feel their motivations as I get acquainted with their background stories, and then I start to appreciate the characters even though it's carried out through the dynamic of the stories.
It is worth mentioning the title on our list of best racing anime.
9. Oban Star-Racers
Oban is a traditional tale about the search for her family, her racing friends, love triangles, blah, and blah. Although it's a typical basic story, however, the authors created a wonderful mix of all of it up and ending with a coming-of-age story with elements of sci-fi and romance, adventure, and a myriad of twists.
It was very important to me when I was a teenager and I've been through a difficult time which is why I watched the film, and it was a great help to me cope. So, I'm likely biased toward the show. Indeed, the show isn't perfect however, I just love it so much that I don't care.
There are two stories in the news: one about racing, and the other of father and daughter trying to come to terms with their differences.
I love this show so deeply. It's a huge blessing for me, and it has allowed me to deal with some tough situations throughout my journey. It's like I have a connection with and have a connection with Eva as a person, and Eva will always be part of my life.
Strongly recommended if you are searching for the best racing anime.
10. Bubble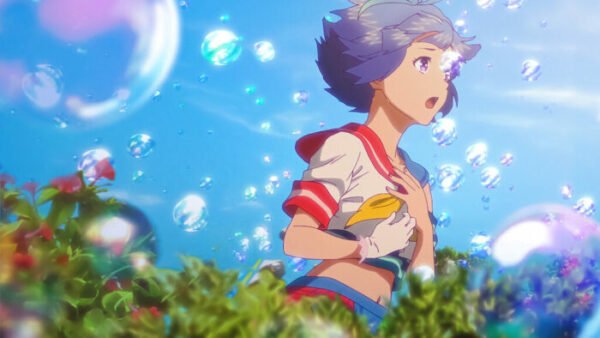 The story is stunning. It's like a new version of The Little Mermaid with many elements from the original story highlighted, particularly the love story and the tragic ending.
In the original version, the prince is unaware that the mermaid is his savior, and the Mermaid dissolved into bubbles or died in a solitary state, where nobody watches her or even mourns for her in her final moment.
But, this story shows that the MC, who is the prince's counterpart recognizes that his savior is the same as the little mermaid, and also grieves when she dies after she sacrificed herself to save him, demonstrating the importance she attaches to him for transforming his life completely.
In addition, the use of parkour was a fantastic element of the story creating action scenes that are very thrilling and thrilling, especially the close-ups of characters moving like they're through the air, from a third-person view.
This creates the impression that you're in the same space as them. It is by far one of the best racing anime.
11. Speed Racer
Speed Racer is the driver of the fantastic Mach 5 in race after race, even though the prize money isn't the ultimate goal. He wants to be the top racer in the world and to beat his mystery Racer X (not realizing it's true that Racer X may be his long-lost older brother the Rex Racer)!
The races don't happen on those boring, circular tracks you would expect. Instead, they usually are in the countryside, as well as in difficult and hazardous terrain.
This is the place where the Mach 5's unique features, like high-traction tires and jump struts, can be very useful. The speed must also contend with villains from untrustworthy racers, criminals, and spies.
However, he is assisted by Trixie and his brother Spridle as well as his pet monkey ChimChim on the way. It is an amazing and one of the best racing anime ever.
12. IGPX: Immortal Grand Prix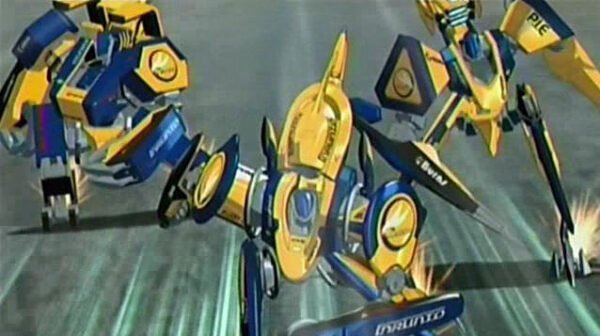 The show is so well-crafted that it not only raises the standard for what TV anime is as well as any other television show that is a cartoon.
The show follows a single team's struggles and their success in a futuristic race known as The Immortal Grand Prix.
The show is light in terms of racing, however, most importantly, it takes its time to tell the story-something you don't often see in modern programming.
The show is so original and yet so authentic. It doesn't have a cheesy theme. There's no irritating Pikachu. No equal.
I discovered this show long before it was even started, thanks to an unpaid DVD from Nintendo Power (containing the first episode). I didn't have any expectations when I went into this.
It's now my favorite and it's the only show on TV that I enjoy watching. You must take a chance and watch this one of the best racing anime shows. You will not be disappointed!
13. Uma Musume: Pretty Derby
The anime takes place in a world where instead of horses, we have horses-girls. They look just like normal girls, but they also have horses' ears and stories.
They also behave just like racing horses. The show is centered around Special Week, 'Spe-chan' to her pals the horse-girl who has been sent to a new high school located situated in Tokyo to become an extremely successful and popular horsewoman in Japan.
She makes new acquaintances as well as their role-model Silence Suzuka. Through the season, she can experience both defeat and success as she discovers what her weaknesses and strengths are before participating in the big races.
Overall, I don't think it's a must-see however I would highly recommend it to anyone looking for one of the best racing anime.
14. Capeta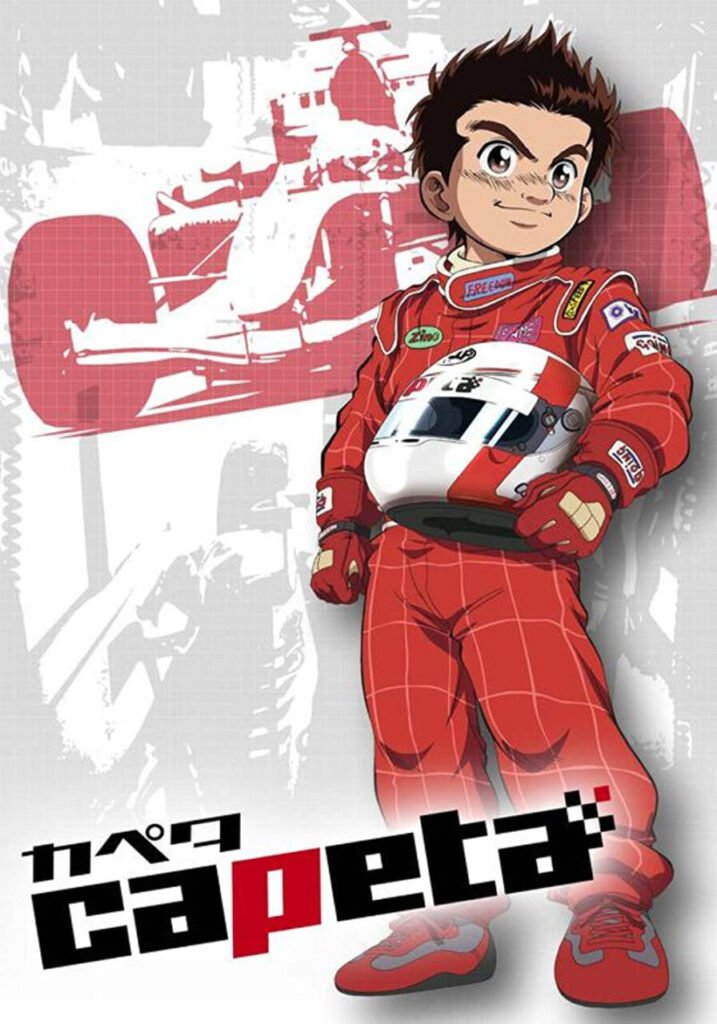 I've watched every episode at least five times This show is one of the best, without cliches, no harems, and no girl shit. Just full-on action and tension.
This is the best show when compared with other shows that are now ruined with fanservice and snarky female voices.

The story is unique and one of a kind, not ever seen before, and can be described as the ultimate masterpiece.
The art itself is considered to be a masterpiece in its time, and in the present, I believe art to be much superior to modern anime art.
Inspiring and motivating. Two words I'll refer to in this series. The story that the protagonist, taira capeta is an absolute must-see.
I highly recommend anyone to take a look at capeta. I just wanted it to continue forever. It is one of the best racing anime.
15. Appare-Ranman!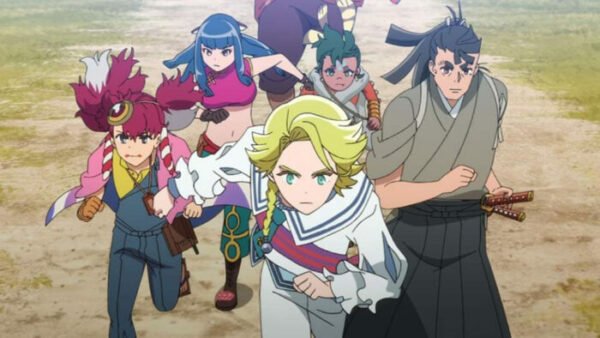 I am a huge fan of this show. The idea of a cross-country race set in the turn of the century USA is a lot of fun especially for the ones with are interested in both motorsports and anime (although I am aware that this is an extremely niche).
The show is generally lively and entertaining and the images are breathtaking. The car's design annoyed me, but then they got on me, particularly Appare's boat. The characters are well-defined and are provided with a satisfying story.
It's not afraid to be either serious or violent, and most of the show will be PG-13 regarding dialogue and themes. This makes for a fascinating mix and is one of the best racing anime.
16. Wangan Midnight
It was and is one of the best street race anime. The only anime that I've watched multiple times. When I was younger, I was a huge fan of this series because I dreamed of the car I would own, street racing, and other kinds of things.
However, this show was not only about cars It was about the character's dreams and passion which gave me the feeling that one day I will own my dream car. Today, I own a car and still enjoy this show, but my car is blue:) It's old, speedy and me!
Strongly recommend this title on our list of best racing anime.
17. Tailenders
Tailenders is a brief but extremely fast-paced and raunchy animated film that will be sure to rock your socks!
The film's beginning was when a narrator provided some background about the background of the planet Terulus and its mishaps caused by a terraformer that went crazy or haywire.
Then, the story is thrown into the real tale, swiftly and with no delay. Overall, it's a great film. Tailenders" movie could've been more extensive and, maybe, gained more material.
However, I like this movie. I'm going to put it in the archive of my top ten animated films to see again in the future.
I hope that everyone who decides to go search for the movie will be as enjoyable as I found it. Enjoy this one of the best racing anime.
18. Idaten Jump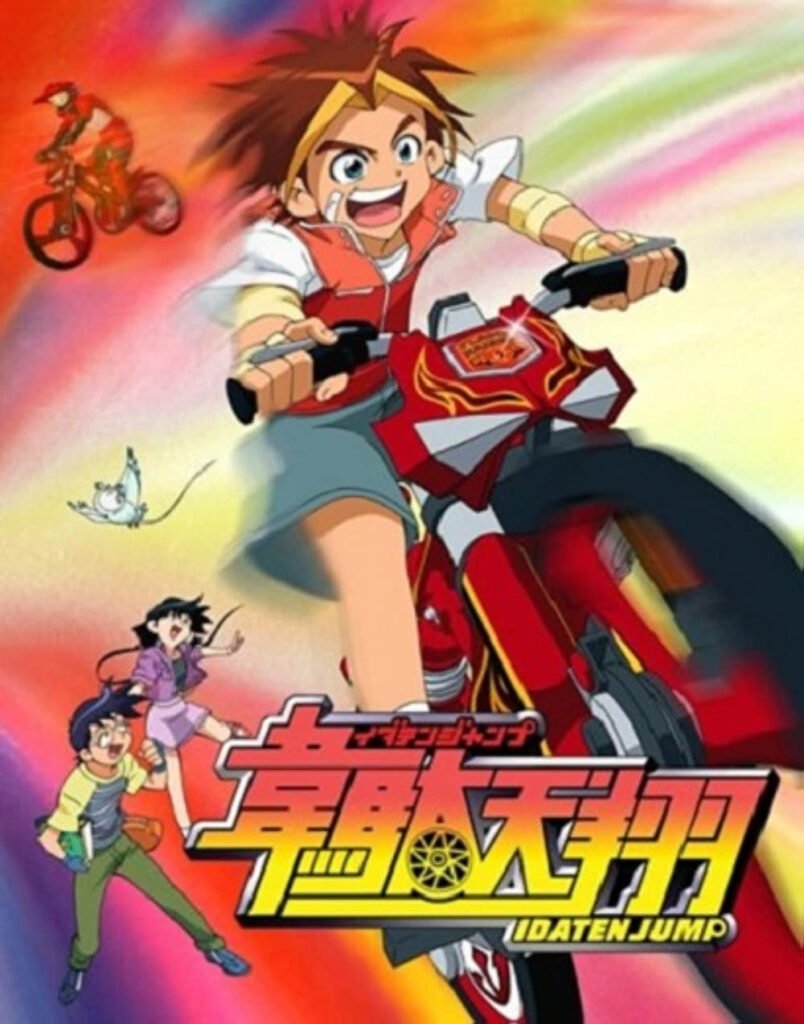 Sho Yamato spends most of their time on mountain bikes with his fellow riders. One day, in the course with some of his opponents, a thick black cloud comes out and whisks everyone away to a secluded area called the X-zone!
Sho and his companions soon realize that mountain biking is a more serious affair in this area It takes the shape of a race that is called the Idaten Battle.
In the course of an Idaten Battle, participants must be able to race across various obstacles to not only beat the competition but also to be able to face the challenges ahead!
These events aim to collect emblems from the loser since the only way out of the X-zone is to gather the right amount of icons. Many childhood memories were triggered by this cartoon.
Wasn't sure if I had a feeling about animation at the time I think it was as a cartoon for kids. However, it was inspiring and inspired me to go further in my day. Last but appealing title on our list of best racing anime.
Final Words
We have reached the end of our list of best racing anime and car racing anime. If you got what you were looking for then do let us know by commenting or sharing this article anywhere you like.
You can follow us on social media and subscribe to the notifications as well. Special Credits – Anime Planet